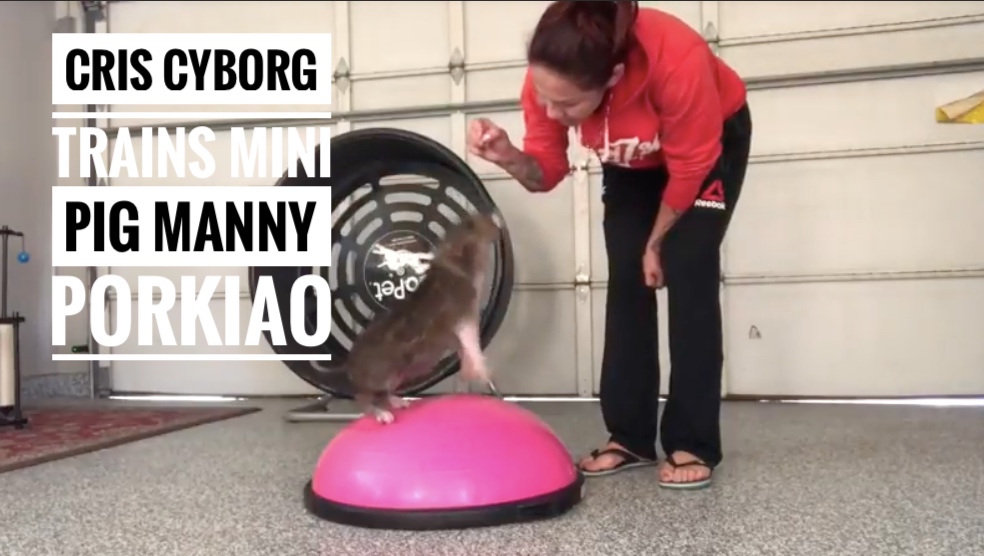 Cyborg who is an avid pet owner; already has a Dog named Fedor, and Two Bengal cats Laila Ali, and Sugar Ray Leopard who fans are familiar with, however the latest addition to her family is Manny Porkiao.  Purchasing the piglet at 15 weeks old, Manny made is way to Huntington Beach from Utah.
Now a proud owner of a Pampered Pig Cyborg has been working hard on trying to train him not to eat the plants in the back yard…while learning how to sit, and walk on the treadmill.  The Pig has been getting along nicely with the Dog.  Both cats initially were standoffish towards the Pig at first but have now warmed up to the idea of having another brother in the family!
If you loved that video above, subscribe to the verified Cris Cyborg Youtube channel. If you're still not following  CyborgsZoo on Instagram, make sure you do that to see other private photos from the Cris Cyborg estate.  Those of you who are pet owners looking for CBD treatments, don't forget to check out FETCH the proud product for animals made by Cyborg Nation Extract Labs.