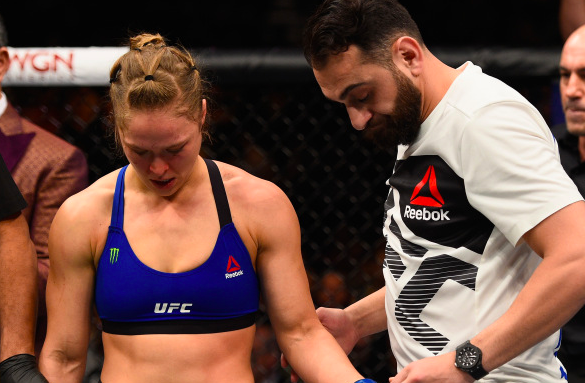 Saturday is going to be a big night for Women's Combat Sports as Cecilia Braekhus, the only female fighter to ever unify the 4 major boxing belts in a division will again make history as she becomes the first female fighter to ever fight on HBO this Cinco De Mayo.
Rousey, who became UFC Champion when the promotion decided not to create the 145lbs Featherweight division went to stardom behind the support of the company pushing her as the image of female mixed martial arts, while taunting Cyborg through media interviews and a smear campaign to make her the face of PED usage within the sport.
While Rousey had once boasted that if Dana White ever asked her to fight Cris Cyborg at 140lbs, the reality was the UFC ended up matching Cyborg against Leslie Smith and then Lina Lansburg as the promotion was unable to convince Ronda to take the fight, despite UFC president Dana White projecting a 2 million dollar buy rate if they were able to put the fight together.
Rousey went on to lose her UFC belt to Holly Holm in a devastating fashion by way of head kick KO, and then after sitting on the sidelines for a year, came back to lose even faster to Amanda Nunes. While the rivalry was something fans had wanted to see for many years, Ronda doesn't appear likely to return back to the sport as she is now in the WWE after having recently made her debut at Wrestle Mania.
Cyborg who will be attending the GGG fight live as a guest of HBO Boxing was visited by Boxing's #1 Youtube promoter Elie Sechback at the RVCA training facility as the interviewed her following a boxing training session with Jason Parillo.  Parillo has coached BJ Penn, Michael Bisping, and Cris Cyborg to UFC world titles, and is currently preparing RDA for his Interim World Title fight against Colby Covington.
"I think I don't need to tell her anything," Cyborg told Elie Sechback. "I think life has taught her a lot of things. I think a lot of things happened through her life and her career. I hope she's learned something from that. Be humble and respect people. I think this is most important."
Asked whether Rousey has actually followed through on that advice, Cyborg said, "I don't know her in person. I think if she's not coming back to fight and she's running away, that's not going to change anything. But I'm not here to judge anybody."