Since handing Julia Budd her first defeat in over 8 years to become MMA's only Grand Slam Champion, Cris Cyborg has been busy with media and interviews, including several magazine features.  The latest feature to hit news stands is the IN CORPORE SANO Magazine dedicated to contemporary wellness culture.  Despite the sport of MMA currently being illegal in Paris France, the magazine did a feature on the female champion highlighting exactly what is right with the sport!
The magazine is currently available for purchase online, and in several Parisian Bookstores including the Librairie Yvon Lambert which was established in Paris in 1967, Ofr Librairie Galerie, and WHSmith Paris Cutlure gifts store.  The magazine of 202  pages is printed on Luxury Paper and is composed by Pascal Monfort and Sebastien Peretto formerly editors of L'Equipe (biggest daily sports paper in France) Sport and Style Supplement.  Also featured in the current issue is Handball legend Mikkel Hansen, in addition to features with Yannick Angel, Champions League Koulikoro, and a conversation with Scott Cuttler.  To order your magazine from online click here.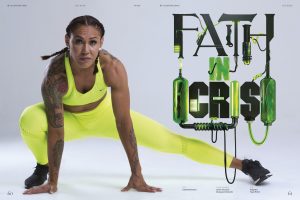 The interview featuring Cris covers a wide variety of topics, and was captured in the lead up to her fight at Bellator 238 which took place inside The Forum in Inglewood California as the main event of one of the most watched female fights of 2020 on the DAZN streaming service.  Cyborg who is one of the biggest names in the sport of mixed martial arts, became the only fighter in the sport of mixed martial arts to win every world championship in their weight division becoming Bellator, UFC, Invicta, and Strikeforce Featherweight champion.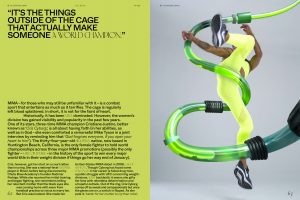 For breaking news, and to stay up to date with everyone Cris Cyborg, be sure to follow @CrisCyborg on IG, Twitter, Youtube, and Facebook.  #CyborgNation is only getting started!