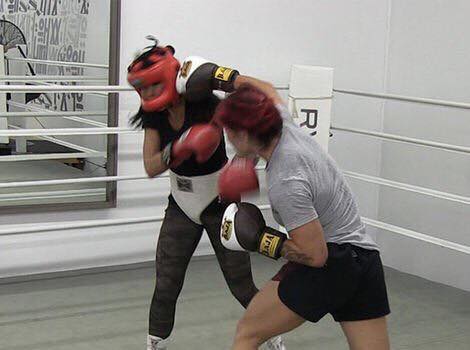 As far as the sport of MMA and UFC goes, there is no bigger fight in Women's Mixed Martial Arts than the upcoming Dec. 30th bout between UFC Champion Cris Cyborg, and the woman who will forever be known as the fighter who KO'd Ronda Rousey, Holly Holm at UFC 219.
As HUGE and Monumental as that fight announcement is for the sport fans,  Mia St. John and Cris Cyborg recently got together to train for an even bigger fight…the fight for increased knowledge of Mental Health Awareness.  Mia St. John a veteran of over 60 professional boxing fights, and a true icon of the sport has been retired from the sport since her TKO win over Lisa Lewis in New Zealand April 2016 retiring with an overall record of 49-14-2.
Since stepping away from the ring the 5x World Boxing Champion Mia St. John, has focused her attention on the needs and services of the mental health community. With the creation of her Mia St. John foundation, she has been able to develop great services of outreach within those communities most in need of attention.  Active with the homeless, St. John has implemented programs that are helping to educate, inform, and improve the physical and mental health of to an ever expanding number of participants.  Continuing to use her platform to bring attention to the needs of the mental health community, in recent years Mia St. John has helped shine a light on the reality of many within the mental health facility systems.  Mia St. John is actively campaigning for the rights of those suffering from mental illness to be protected by stricter monitoring and subsequent follow up investigations on mental health facilities currently treating those with mental illness.
Next Saturday Cris Cyborg will be attending the Mia St. John annual fundraiser with host Sugar Ray Leonard, honoring Mark Geragos with a courage and humanitarian award.  The dinner will take place from 7-10PM at the 10e Restaurant located at 811 W 7th St in Los Angeles California.  Tickets are limited, however a few are still available for the NIGHT WITH CHAMPIONS.  The dinner will include a celebrity live auction for charity.  If you are interested in attending the event you can book your table for 8, 4 or purchase an individual ticket here.
Cyborg who sparred several rounds with Mia. St John at the RVCA Sports facility in Costa Mesa California had this to say after the training, "Mia has so many fights, and so much experience she really was able to offer some great advice and show a few tips that were easy to use right away".  St. John who lost a 12 round decision to Holly Holm in a boxing match, went on to tell reporters from TMZ that she felt Cyborg's power would be enough to finish the fight via KO or TKO and that when she fought Holm 10 years ago was when Holly was in her prime.
An interesting fact that many fans of MMA might not know is that Mia St. John had her own MMA fight back in 2008, almost 3 years after lsoing a decision to Holly Holm inside the boxing ring.  St. John also a Taekwon Do black belt won her only MMA fight against Rhona Gallegos via KO at only 40 seconds in the first round!