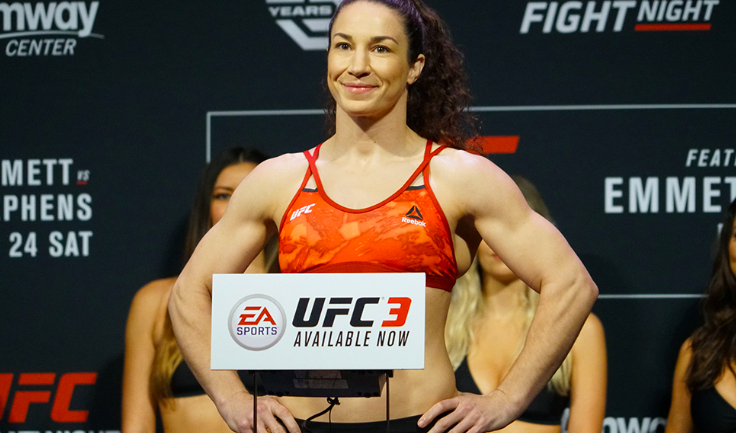 Cyborg Nation would like to give a HUGE CONGRATULATIONS to Olympic Wrestling Silver Medalist and former Bantamweight Champion contender Sara McMann on the announcement of her pregnancy. Announcing on her social media that her an longtime boyfriend Chad Bingham a BJJ Black Belt from the Alliance Jiu Jitsu team are expecting a child.
McMann who fought Ronda Rousey for the UFC Bantamweight world title in 2014 losing via TKO has a professional record of 11 wins and only 5 losses. Posting on her Instagram, McMann revealed "I've been dying to tell the world ❤️❤️❤️ The short story: Chad and I started trying after my last fight and that SOB knocked me up immediately I'm 12 weeks along! The long version: I've had bad shoulder injuries my last 2 fights (torn labrum and rotator cuffs in BOTH shoulders). I have to take time off to get healthy no matter what. I'm 37 and I'm getting too close to the time of possibly not being able to conceive. We decided that it was the right time in all aspects. So, yes I will still be fighting. My body handles pregnancy very well and I am training thru the majority of it. Thanks to everyone who is happy for our happiness "
With McMann sidelined the UFC Bantamweight division will take another hit to the already thin division.  The UFC should look at the possibility of introducing Invicta FC Champion Sarah Kaufman who is a perennial top 5 bantamweight in the established WORLD RANKINGS. A quick look at the UFC top 10 at 135 reveals;
Champion: Amanda Nunes- Currently sidelined 6months with medical suspension
1. Holly Holm -Also Number 1 contender fighting at 145, facing Megan Anderson in June.
2. Ketlen Vieira
3. Julianna Pena- Also sidelined with a pregnancy last fought Jan 2017
4. Raquel Pennington- sidelined all of 2017 made a return at UFC 224 losing to champion Amanda Nunes Via TKO
5. Germaine De Randamie- hasn't fought in a year after vacating world title at 145lbs and two return fights at bantamweight being canceled.
6. Cat Zingano-  last win was almost 4 years ago and is coming of 3 consecutive defeats
7. Marion Reneau- winner of 3 in-a-row after back-to-back defeats. 40 years young
8. Sara McMann- Pregnant
9. Aspen Ladd- 6-0 23 year old prospect with recent wins over Sijara Eubanks and Lina Lansberg
10. Bethe Correia- 1-3-1 in her last 4 bouts including a KO loss to Ronda Rousey at UFC 190
While the Featherweight has often been called the thinnest division in MMA, with the recent development that season 28 of TUF will include women in the 145lbs weight class, it might eventually end up proving to be the deepest most talented division in WMMA now that the UFC has decided to support the sport with it's creation.