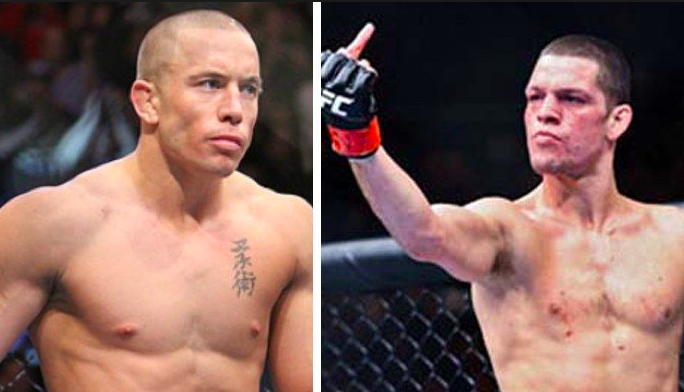 Early reports are surfacing that the UFC is in discussions about a possible August 4th fight between Nate Diaz and GSP.  August 4th is when the UFC is scheduled to return back to Southern California, the home of WME and a leading market for the sport of MMA.
GSP last fought at UFC 217 where he defeated then UFC Middleweight Champion Michael Bisping to capture a world title in two different weight divisions.  GSP who beat Johny Hendricks at UFC 167 by split decision retired back in 2013, stating doping concerns in the sport, and burnout as several of the reasons why he left.
Nate Diaz who fought RDA in 2014 for a salary of 16,000$ as a Co Main Event at UFC on FOX 13 last fought Aug 20th of 2016 when he lost a decision to Conor McGregor in a rematch after having previously submitted the Irish star by Rear Neck Choke at UFC 196.  Diaz made a reported 2 million dollars in the McGregor rematch, while making a disclosed even million for their first fight at UFC 196.
The UFC has reportedly offered Nate Diaz several different opponents and are giving him an ability to chose which fight he would like to make his return with.  In recent days reports of Eddie Alvarez, Kevin Lee, Tyron Woodley, Al Iaquinta, and now GSP have surfaced. Of all those names, GSP would be the biggest potential PPV draw–with his last fight against Michael Bisping having done an estimated 875,000 buys. GSP fought Nate's older brother Nick at UFC 158 winning a decision and topping more than 1 million PPV buys in the process!
Hearing GSP vs. Nate Diaz is possibly being planned for August 4. Guess no Georges-Conor or Georges-Khabib fight in the near future if true.
— Mike Russell (@MIKERUSSELLMMA) May 6, 2018