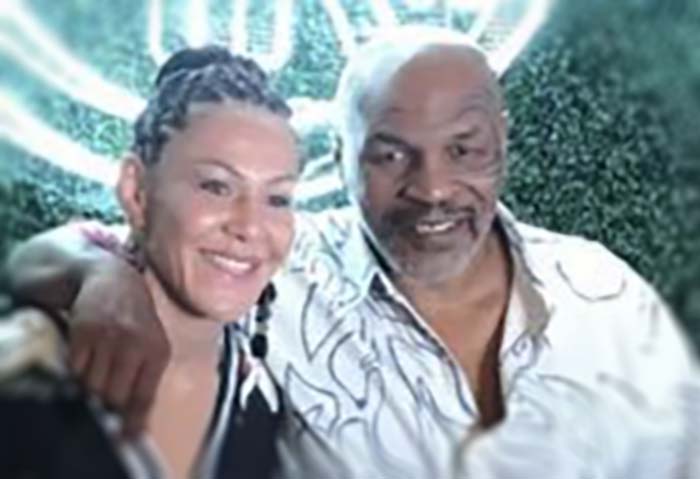 Even at the age of 53, Mike Tyson can still be the talk of the boxing world. Anyone who has seen him train recently has been stunned by his ferocious speed and power, which even now is impressively close to the level that was so feared during his athletic peak. His intention to return to the ring has many mouths watering.
At this stage, Tyson is only looking at exhibition fights, and with Evander Holyfield looking to do the same, it appears as though the two could be on course to fight for the third time. With Tyson being four years younger than Holyfield, that could make all of the difference in middle age.
We look today at the potential fallout from a Tyson victory over Holyfield within the next year.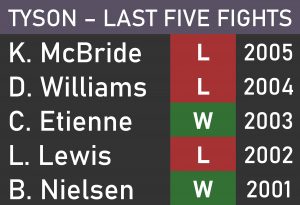 Tyson has been absent from the ring for 15 years. This alone is a sure sign that a bout would present him with more than a challenge.
What if?
The next twelve months promise a number of high-profile bouts, all of which will keep those that enjoy wagering on the latest boxing match odds well-occupied. However, there is no doubt that the return of Tyson, despite being 15 years absent from the ring, will be the centerpiece of all discussions.
It is hard to wonder with great accuracy what Tyson could achieve if he throws his heart and soul back into the ring. In proving that he still has 'it' against Holyfield, Tyson may well target Lennox Lewis, or else make good on current rumors linking him to a fight with Riddick Bowe, a former schoolmate and ex-WBO Heavyweight Champion.
Holyfield and Lewis both seem like great opponents given their age and history. If Tyson beats Holyfield – or, indeed, Lewis – then he might well look to avenge some of his other losses, such as those suffered against Kevin McBride and Danny Williams at the tail end of his career to date.
Another big money match up could be against Sonny Bill Williams. The world-cup winning rugby player has star appeal and boxing pedigree, having won all seven of his professional fights. Even John Fury, the father of Tyson Fury, has been mooted as a potential opponent, with the mixture of bare-knuckle and Queensbury roots providing an excellent narrative.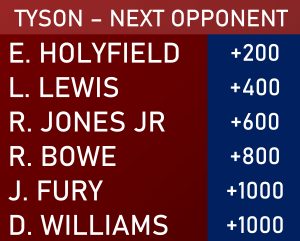 Tyson's next opponent – odds as they stood in May 2020.
Should he come back?
As the saying goes, you don't play boxing. It's a brutal and unforgiving sport for the overambitious, as the likes of Muhammad Ali, Larry Holmes and perhaps even Tyson himself would attest. Many of Tyson's old opponents know just how dangerous the boxing ring can be, and professional fights would be a big risk for Tyson and probably not a risk worth taking with his long-term health in mind.
Naturally, a lot of people have been negative about Tyson's comeback, much as they were about George Foreman returning to the ring from a 10-year absence in 1987. Foreman memorably went on to win the heavyweight world title at the age of 45 – although the difference between 45 and 53 (and an absence of ten versus 15 years without a fight) is an extremely stark one in this sport.
One other consideration here is the fact that Foreman (shown below recalling his rivalry, and later friendship with Muhammad Ali) had an incredible 29 fights between his comeback and winning that bout vs Michael Moorer in November 1994.
Source: CBS This Morning
The likes of Vitali Klitschko, Larry Holmes, Evander Holyfield and Muhammad Ali made their comebacks at a much younger age and with less time between fights. As such, Tyson is a potential curio, and a pioneer for more fighters to come back and use their very name alone to boost the box office.
Tyson is never far away from the highest echelons of combat sport, and never fails to voice an opinion. If he gets a real hunger for the sport again, Tyson may want to ditch the idea of exhibition fights and return to the professional game. With 17 years having elapsed since his last professional win, he would unquestionably need to build up his resistance and stamina first with a series of smaller fights.
There have been fighters such as Bernard Hopkins who have shown that it is possible to be world-class while in your late 40s, but he never stopped fighting. Mid-50s and out of the ring since 2005? It would be a long road back to competitiveness for Tyson, regardless of how good he looked in the past.