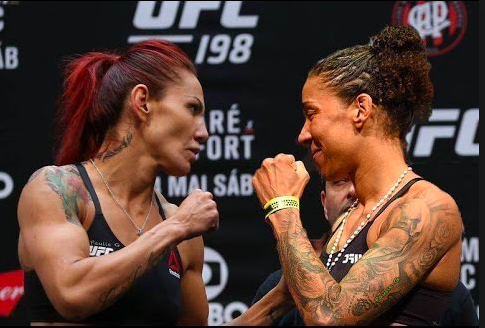 It is April and with the news of the 1st already here fans in Brazil are excited for the addition of Cris Cyborg Vs. Germaine De Randamie as a "Superfight" at UFC 237, which takes place May 11th in Rio De Janeiro.  GDR who won the inaugural featherweight championship by defeating Holly Holm at UFC 208 via unanimous decision vacated the UFC 145lbs championship instead of facing Cris Cyborg at UFC 214 where Cyborg went on to defeat Invicta FC champion Tonya Evinger to claim the vacated title.  Cyborg who has gone 8-1 during her 9 fights with the UFC as her promoter lost her UFC 232 bout to Amanda Nunes after having successfully defended her UFC belt twice,  with 3 Invicta title defenses, and two UFC super fights at 140lbs will be looking to rebound back into the win column May 11th in  Brazil.
Germaine De Randamie who has gone undefeated since her 2017 victory over Holly Holm had an impressive performance against Raquel Pennington at the Bantamweight 135lbs division, however has elected to return back to 145lbs in a non-title fight against Cyborg as Amanda Nunes Vs. Holly Holm has been announced for UFC 239 in Las Vegas for International Fight Week. UFC 237 in Rio De Janeiro already has Jessica Andrade challenging Rose Namajunas for the UFC Championship belt as well as Brazilian legends Anderson Silva and Jose Aldo on the card.
Cyborg who has been in Africa training in the Jungle in anticipation for this fight  is excited to be taking part in the first "electric fence" super fight.  As part of this bout the UFC will be testing new technology which prevents fighters from putting their fingers through the cage fence by supplying an electrical shock to the finger tips each time they are extended into the holes of the fence, the shock is sent through the glove by a cage side member of the athletic commission.  While the technology is not new, this will be the first fight the UFC has ever used the technology in an actual fight, which is why the UFC 237 fight between Cyborg and GDR is being called an "Electric Superfight".  To Purchase your tickets to the first ever Electric Superfight HERE.
April fools.