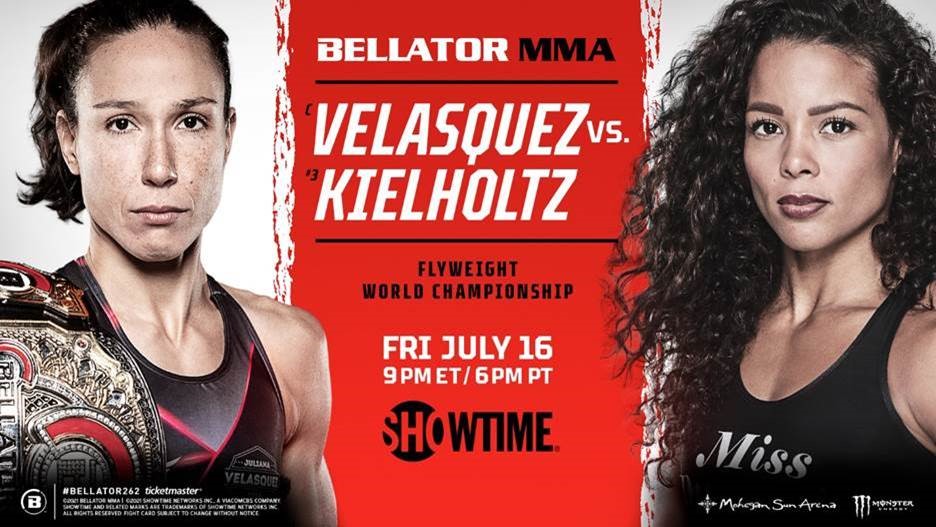 Bellator MMA is back with an action packed event as Bellator 262 takes place tonight inside of the Mohegan Sun Arena in Uncasville Connecticut with the preliminary fights starting 3:30 PST and the main card starting 6:30 PST live on Showtime Sports. The full 10 bout fight card will feature 3 female MMA fights including a showcase bout for Diana Avsaragova as she faces the 2-2 Gabriella Gulfin and looks to improve her perfect record to 4-0.  In a feature bout Arlene Blencowe will look to rebound from her Bellator MMA title fight against Cris Cyborg against tough Brazilian Dayana Silva who suffered a split decision loss to Julia Budd back in April of this year.
The main event of tonight will feature undefeated Brazilian Juliana Velasquez against Bellator Kickboxing Champion Denis Kielholtz who has won 4 consecutive fights following her submission defeat in 2018 to Veta Arteaga.   The Co Main event will feature Matt Mitrione against Rising Heavyweight prospect Tyrell Fortune who at 10-1 could be looking at finishing the Bellator MMA career of former UFC Ultimate Fighter standout Mitrione if he is able to get past the tough test.  Brazilian Matheus Mattos looks to continue his climb up the bantamweight ranks as he faces athletic veteran Cee Jay Hamilton in a fight guaranteeing action.
Johnny Eblen will look to keep his 8-0 record perfect as he steps up the fight the #1 LHW from Ohio in Travis Davis a bout that will start the main card.  The final fight of the preliminary card will showcase veteran Brazilian Ronny Market against said Sowma who will be looking to rebound from his first loss after a 6 fight win streak was snapped by Tyrell Fortune.  Featherweight prospect Cody Law will face Theodore Macuka in a fight that will establish who climbs forward in the rankings, while California fan favorite Johnny Soto will face Bellator Veteran Adil Benjilany who could be facing a release from the promotion with a loss. The first fight of the night to start the action will be Charlie Campbell of the Ray Longo and Matt Serra tutelage against Bellator MMA veteran Nicholas Giulietti
If you are looking to pick up the latest CYBORG NATION merchandise, be sure to check out the official ONLINE STORE HERE.  Members of Cyborg Nation Online receive an additional 10% discount on items from the store, in addition to the Weekly Technique Thursday instructional, and a once-a-month private zoom, meet and greet, Q&A with the Grand Slam Champion. Register for a full year and receive an autographed 8×10 personalized by Cris Cyborg and sent directly to your house anywhere in the world!