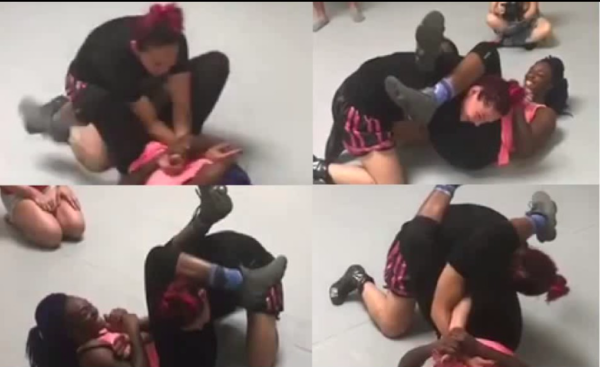 2x Olympic Gold Medalist Claressa Shields has lived up to the to the hype, just 5 fights into her professional career and still undefeated the Middleweight and Supermiddleweight fighter from Flint Michigan has captured the NABF Middle weight title as the main event on Showtime. In August of 2017 Shields beat Nikki Adler in Detroit to capture the WBC Super- Middleweight belt and the vacant IBF super-middleweight belt.  Having just defeated the 17-0 Tori Nelson shields captured the WBAN Super Middleweight title with the victory.
Going on Twitter T-Rex put the whole Middle and Supermiddle weight divisions on Blast in Women's boxing for turning down fights.  Shields who has been chasing a fight against Christina Hammer recently pointed her fingers towards Alicia Napoleon and Mari Cornejo.
If I hear another girl say she wanna fight me and then I have a date set up and you turn me down, I'm showing up to your gym with cameras! Let the whole world know you hard for interviews but scary in real life ! this message is for the Middle and Super Middle fighters!

— ClaressaT-rexShields (@Claressashields) March 15, 2018
Claressa Shield's last two fights for Showtime boxing have gotten more viewers than Ronda Rousey's last fights in Strikeforce on the Showtime network, which has been encouraging for all female fighters.  Shields who is looking to move up the later, seems to only have one complaint with female boxing, and that was her difficulty securing an opponent in the top 10 willing to accept the fight.
Man the way these girls who are top 10 ranked acting, I'll have to start fighting MMA to get a fight! @criscyborg You may have to teach me some Jujitsu and some wrestling moves sis ‍♀️ these girls scared of me.

— ClaressaT-rexShields (@Claressashields) March 15, 2018
Half joking Shields tweeted Cyborg saying she might be recruiting her to train wrestling and jiu jitsu for a run at MMA.  With all the rumors of Floyd Mayweather going to the UFC, and the huge fight purses women MMA fighters are getting, do you think we could see a 2x olympic and professional world champion in boxing cross over to the octagon?