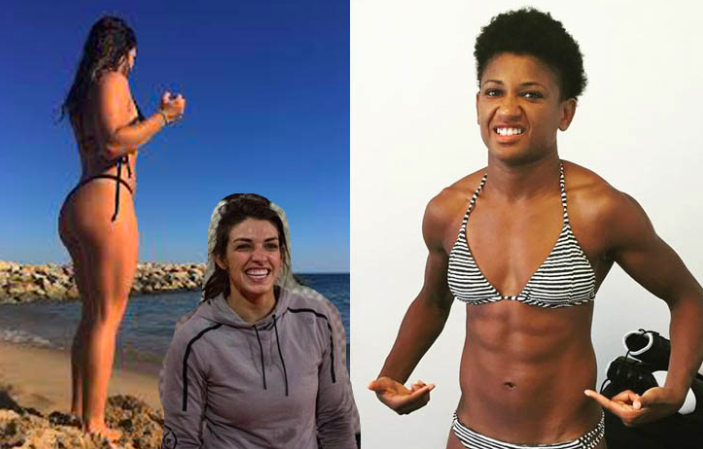 Despite the fact that Mackenzie Dern missed weight by almost 7 pounds for the UFC straw weight 115lbs division, she somehow managed to move herself into the promotional top 15 with a victory over the 3-3 Amanda Cooper.  Dern who has missed weight 40% of the time she has attempted to make the straw weight division improved to 2-0 in the UFC with her victory at UFC 224 Saturday night in Rio De Janeiro Brazil.
The current ranking system is used by the UFC to determine ranking, title shots, and placement on fight cards.  While Dern was only having her 2nd fight in the promotion her bout was placed ahead of Vitor Belfor V. Lyoto Machida despite her UFC debut occurring on UFC 222 being a controversial decision victory. Rankings are determined by a voting panel determined by the UFC made up of members of their media outlets.  The media members are then asked to vote for who they feel are the top fighters in the UFC by weight class, and again by Pound-for-pound. A fighter is only eligible to be voted on if they are with active status in the UFC.  Fighters are allowed to appear in more than one weight division at a time, however the champion and interim champions are to be considered the top positions in their respective weight classes and therefore are not eligible for voting by weight class, however, champions can be voted on for the pound-for-pound rankings.
Other notables include; UFC not ranking a featherweight division, Holly Holm still listed as #1 contender at Bantamweight despite her second consecutive featherweight bout against Megan Anderson scheduled for UFC 225 and Conor Mcgregor remaining in the rankings despite not having fought in 2 years. To see the full rankings click here.
UFC Strawweight Angela Hill who was formerly ranked #15 despite a win over the 14th ranked Strawweight took to twitter to voice her opinion of the new rankings.  Do you think she has a right to be upset that a girl who missed weight by 7 pounds is listed ahead of her in the rankings?  You can look at votes according to individual members of the media on the site, should their be a process of accountability for members of the media who constantly vote on popularity instead of skill displayed during fights?  These ranks determine an athletes ability to rise in the rankings and establish an opportunity at a title shot.
Well this is a big fat slap in the face. I've fought top competition, beat #14 and the rankings finally grace me with #15 ranking, just to get bumped by a fucking Flyweight. pic.twitter.com/ZYlP5Ogs6w

— Angela Hill (@AngieOverkill) May 17, 2018

WOMEN'S STRAWWEIGHT
Champion: Rose Namajunas
1 Joanna Jedrzejczyk
2 Jessica Andrade
3 Claudia Gadelha
4 Karolina Kowalkiewicz
5 Tecia Torres
6 Carla Esparza
7 Michelle Waterson
8 Felice Herrig
9 Alexa Grasso
10 Cortney Casey
11 Randa Markos
12 Tatiana Suarez
13 Joanne Calderwood
14 Nina Ansaroff
15 Mackenzie Dern *NR