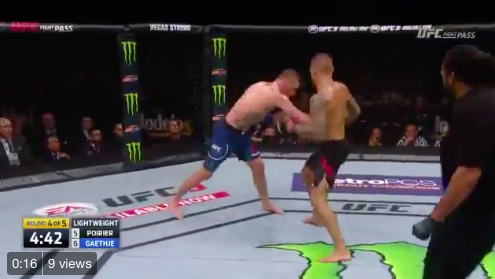 Going into UFC Glendale everyone knew that Dustin Poirier Vs Justin Gaethje was going to be a war. Gaethje a former World Series of Fighting Championship champion entered the Gila River Arena with an 18-1 record. Gaethje who beat Michael Johnson in his UFC debut in an absolute war, improved his record to 18-0 before fighting Eddie Alvarez in his last bout at UFC 218.  The fight was an absolute war, however Gaethje loss to Eddie Alvarez via a 3rd round KO. This is the return to action for Gaethje after his first loss.
Standing across the cage from Justin Gaethje was Dustin Poirier who has a professional record of 22 wins and 5 losses.  A product of American Top Team and originally from Carencro Louisianna, Poirier has continued to get better, with wins over Jim Miller and Anthony Pettis Poirier was ahead on most score cards when Eddie Alvarez bout was ruled a NC due to an accidental knee to the head of a grounded fighter.
scheduled for 5 rounds, this was an absolute war, with Gaethje trying to set the pass. Utilizing an inside leg kick Gaethje was able to effect Poirier, but Poirier made adjustments and continued to find his mark. Gaethje a collegiate wrestler never utilized his wrestling and continued to be worn down with strikes before eventually suffering a TKO loss to Poirier at 33 seconds into the 4th round.
OH MY GOD DUSTIN POIRIER!!!#UFCGlendale pic.twitter.com/i7QVcWxpWa

— UFC (@ufc) April 15, 2018
Direct hit 🎯#UFCGlendale @DustinPoirier pic.twitter.com/HCxtksv1II

— UFC (@ufc) April 15, 2018
Gaethje STUNS Poirier here in round 3!!#UFCGlendale pic.twitter.com/AGxhAmpRFJ

— UFC (@ufc) April 15, 2018