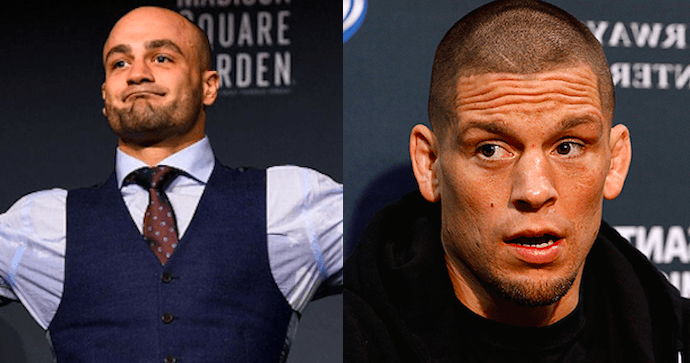 Eddie Alvarez is a former UFC lightweight champion and one of the most respected fighters in the division.  Sidelined currently as he is waiting for his next bout to be negotiated, Alvarez sat down with our friends at EsNews to talk about the possibility of fighting Nate Diaz in a return.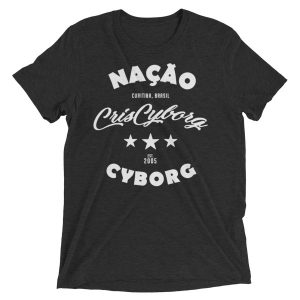 Alvarez who last fought at UFC 218 in Detroit went to war with former WSOF champion Justin Gaethje in a fight that went three rounds before Alvarez put Gaethje down for the TKO victory over the previously unbeaten Gaethje.
Alvarez who has fought for almost every major promotion including DREAM, BODOG FIGHTS, and BELLATOR MMA has been a perennial number top 10 fighter for the past decade in the lightweight division, check out what he said about Nate Diaz.
"Nate could come to the lightweight division and get it right here," Alvarez said laughing. "I would love to (fight Nate Diaz). We almost fought each other in Mexico, I was fighting his friend Gilbert Melendez. I beat Gilbert and Nate was angry about it. And so me and Nate almost got into it in Mexico. For sure I'd like to get that match out. I confronted him (Nate). Because I've always been cool with Nick and Nate. Always. I'm still cool with Nick. I seen Nick in Dallas and I invited him to my after party and he came and hung out. He knows me and Nate aren't that cool. But with Nate in Mexico, I went up to him and said 'Hey why do you keep looking at me like this. I've been cool with you and your brother'. So he put his head down and wouldn't look at me but said 'You're fighting my friend so f*ck you!'. So I kind of started laughing and said 'Man I'm like 30 something, I've got kids and sh*t, this fight stuff is just business for me. So I laughed it off and then the UFC decided to come in and break us up. Then of course later he was angry that I beat Gilbert. But you know keeping it real, you know Nate always talks about keeping it real. Well keeping it real I beat his friend up right in front of him while he sat cageside and he still didn't do sh*t about it. So if he ever wants to come back, I'm right here! (Nate) can come get this!"