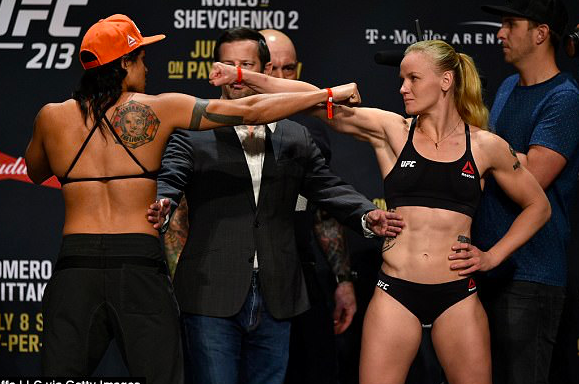 UFC on Fox 30 is going to be live from Alberta Canada July 22nd when the promotion heads to Calgary with a Co-headline fight of Jose Aldo Vs. Jeremy Stephens. While the UFC made the Co main event public, they are still finalizing the last details on the main event.
Now according to Ariel Helwani the promotion is looking at bringing Valentina Shevchenko in as a main event against UFC Flyweight champion Nicco Montano who won the title after winning the Ultimate Fighter Reality TV show, becoming the inaugural champion of the division. Fans in Canada got to witness a match between Amanda Nunes and Shevchenko for the 135lbs title in a fight that saw Nunes keep the belt where many in the crowd didn't agree with the decision.
Ariel Helwani of MMA Fighting went on to state that while the bout is not finalized, it is the direction that the UFC is wanting head, and they are hoping to finalize bout agreements to make the announcement formal. Nicco has been sidelined with an injury and has not defended her belt since winning it.
The UFC's long-awaited return to Calgary is officially official. No main event announced, though I'm told the hope is to book Nicco Montaño vs. Valentina Shevchenko for the women's flyweight title in that spot. Not finalized yet but that's what they want. https://t.co/yEN7el8vYZ

— Ariel Helwani (@arielhelwani) April 27, 2018