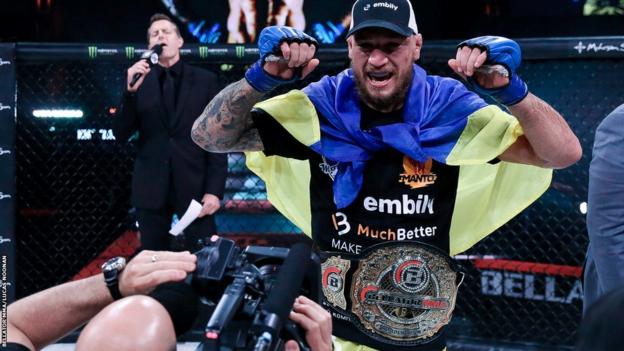 27-0. The longest active winning streak in the sport of MMA without a loss belongs to Ukrainian MMA World Champion Yaroslav Amosov who is the Bellator MMA Welterweight Champion.  Having taken time away from the sport to serve active duty for Ukraine during the Russian invasion, Bellator MMA introduced an interim champion until Amosov was in a position that he could compete again.
With encouragement from the government and fellow military soldiers Amosov went on to represent his entire country with the Ukraine flag dropped over his shoulders as he defeated Logan Storley the interim champion for a 2nd time, however in this outing he displayed a much more dominate performance–So dominate that the arguments he could out wrestle Kamaru Usman or strike with Leon Edwards of the division could be made.
With Scott Coker's ability to find, and develop talent in the sport of Mixed Martial Arts there might be a day where fads  is recognized as the P4P #1 fighter in his division despite never having fought in the Ultimate Fighting Championship, similar to how recently retired Fedor Emelianenko was viewed globally.
Bellator 291 also saw Sinead Kavanagh pick up her 2nd victory following her loss to Cris Cyborg defeating Janay Harding by unanimous decision after 3 rounds of standup action. Jeremy Kennedy and Bryce Logan ruined Pedro Carvalho and Peter Queally's homecomings however Siaran Clarke and Karl Moore won the crowd over with their performances.  Mike Shipman picked up a bit of an upset over local Irish legend Charlie Ward while Khasan Magomedsharipov, Jena Bishop, Richie Smullen, and Brian Moore also picked up wins on the night. As always the Bellator Dublin crowd proved to be one of the best in sports.