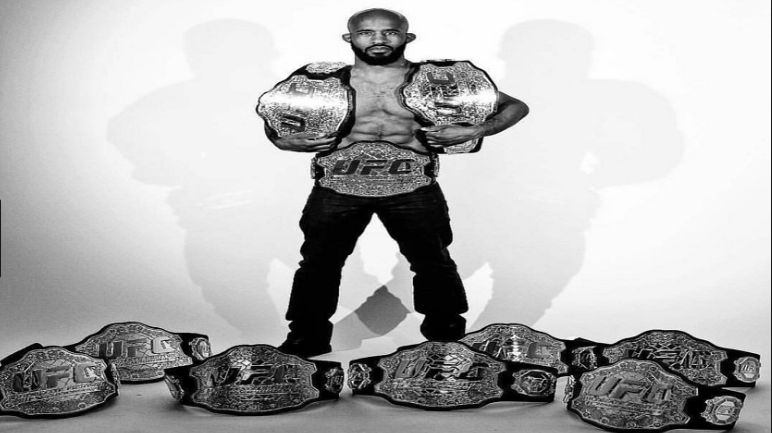 Demetrious Johnson is the most dominate champion the UFC has ever had, surpassing the world record for title defenses set by Anderson Silva, and currently ranked as the #1 Pound for Pound best fighter in the UFC there isn't a Lot that the flyweight champion hasn't accomplished in his career outside of a super fight with a bantamweight champion willing to move down in weight.
Former USA Olympic Gold Medalist Henry Cejudo doesn't seem to happy with Mighty Mouse however, and after the two of them went back and forth in an epic Twitter Beef, Cejudo announced that the UFC has been discussing an Interim title match for him against Joseph Benevidez provided who will be taking on Sergio Pettis at UFC 225 in Chicago June 9th.
Mighty Mouse who last fought 7 months ago by defeating Ray Borg in spectacular fashion at UFC 216 when he broke Anderson Silva's record for title defenses had surgery after the win and has been rehabbing for a return. The Flyweight has never had a champion not named Demetrious Johnson, so an interim title between Henry Cejudo and Joseph Benavidez could bring life into a division that has seen one of the most dominate performances by any fighter in any weight class.
I was being told DJ overplayed his hand, they asked him to fight in August he said no and now he's trying to get on again because he knows he can't sell his own PPV and want to make money off others. Fact. #makeyourownmoney https://t.co/QL65Ox9OUp

— Henry Cejudo (@HenryCejudo) May 16, 2018
And one more thing that's being discussed. If benevidez gets a win there will be an interim title fight. Here you go mr @arielhelwani https://t.co/fiLZqbZhlR

— Henry Cejudo (@HenryCejudo) May 16, 2018