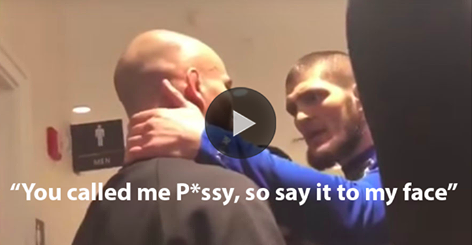 WOW!  Most of us saw the leaked footage of Artem Lobov and Khabib Nurmagomedov in the lead up to UFC 223.  It is the incident believe to have set off the Conor McGregor assault which ultimately resulted in the removal of 3 bouts from UFC 223.  While no official statement has come out, the it has been speculated that the incident with Khabib is what made Conor fly to New York.
While the original leaked video had all of the commentary in the native language of Artem and Khabib, a video has since surfaced which translates the conversation giving everyone the ability to hear exactly what was said during the exchange.
While Khabib puts his hand firmly on the back of Artem's neck, there doesn't appear to be any threats of violence with the discussion.  Do you agree with the way Khabib Nurmagomedov handled the incident?  It has been reported that Khabib was talking about a series of interviews that Artem had given to MMA media that was very critical of Khabib and attacked him personally.