Bitcoin takes over Miami Beach yet again for the biggest annual celebration in the entire Bitcoin World! If you are new to the idea of Bitcoin or if you are a BTC black belt the Bitcoin Miami Conference is an amazing opportunity for you to learn, see, and explore what is the world's greatest technological advancement, the Bitcoin Standard. As many of you know Cris Cyborg was an early adaptor to Bitcoin and blockchain technology and often uses her fight week as a chance to promote the Bitcoin Standard by placing an Athlete sponsorship QR code on her fight night uniform.
Bitcoin 2023 will take place May 18-20th in Miami Beach and will feature over 150 of the industries brightest and best speakers with over 2,000 Bitcoin, Crypto, Blockchain focused companies and over 250 of the industries top corporate sponsors working together to promote the BTC 2023 Miami Conference to the over 15,000 attendees ranging from Bitcoin white belts to the black belts all attending to network, communicate, educate, learn, and explore the future that will be Bitcoin.
USE CODE: CYBORG to save 10% on your tickets to the Miami Bitcoin Conference. GET YOUR TICKETS HERE.
Thursday May 18th will be Industry Day which is a great opportunity to attend Pitch Day and explore the opportunities that Bitcoin offers to Business.  Previous winners include; Nunchuk, Alby, The Bitcoin Company, Eliair Games, and 25 X. Previous Pitch Day judges have included the top venture capitalist investors in the Bitcoin industries in addition to Technology companies  trying to change and adapt to the future of Bitcoin. With the Industry Day Pass you are able to attend Thursday when many of the industry leaders will be present without the crowds of General Admission.
May 19th will be the start of General Admission , which usually brings a crowd of the World's leading Bitcoin Enthusiast from ALL OVER THE WORLD.  With scheduled speakers that include; Michael Lewis, Michael Saylor, Jack Maulers, Alex Gladstein, Stacy Herbert, Matt Odell, Peter McCormack, Ben Askren, Kenny Florian, Dan Held, Saifedean Ammous, Caitlin Long, Natalie Brunell, Layah Heipern, Anthony Pomp Pompliano, Alex McShane, Sheikh Roberto, and many more of Bitcoins favorite investors, personalities, influencers and celebrities.
May 20th is the final day of Bitcoin 2023 in Miami Beach Florida and will feature a ton of guest celebrities and with the Bitcoin Bazar, Bitcoin Games, Art Gallery and more there is something for everyone!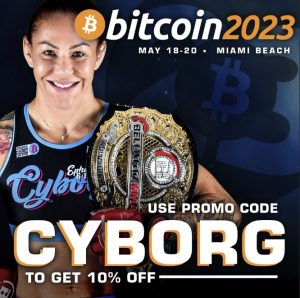 If you are going to be attending the Bitcoin Conference 2023 in Miami Beach Florida, do not forget to use discount code: CYBORG at checkout to save 10% off your BTC Conference tickets for Bitcoing 2023.  To purchase your tickets with the Cyborg Discount Code click here.
As a reminder, those of you who love to support the Bitcoin industry by using and spending your stats we accept Bitcoin as a form of payment for all Cris Cyborg merchandise inside of the Cyborg Nation online shop!  To use your BTC and get some sweet SWAG of MMA's only Grand Slam Champion Bellator MMA, UFC, Invicta FC, and Strikeforce Champion Cris Cyborg CLICK HERE