UFC 232 will take place Dec. 29th inside Las Vegas's leading entertainment and sports Arena, the T-Mobile Sports Arena and will be available on PAY-PER-VIEW.  The main event will feature a rematch of Jon Jones Vs. Alexander Gustafsson and a Co main event between UFC Featherweight champion Cris Cyborg against Bantamweight challenger Amanda Nunes.
Ahead of UFC 232, Team Cyborg will release the 6th season of Cyborg Nation a reality based digital series focusing on all of the craziness that is fight week in Las Vegas.  Each video episode is filmed for 24 hours and then edited for 12 producing 4 episodes the week of UFC 232 Cris Cyborg Vs. Amanda Nunes.  The series is brought to you by the valued sponsors of Cris Cyborg and Cyborg Nation for the official UFC 232 fight against Amanda Nunes.
The Official Car supplier of Cris Cyborg and Cyborg Nation
South Coast Mitsubishi– Known in the combat sports community, South Coast Mitsubishi has established itself as on of the top New and Used card dealerships in Souther California with reliable service matched with un paralleled prices.  If you're in Socal and shopping for a new or slightly used vehicle check out SCM HERE!
Official CBD pain and inflammation management sponsor of Cris Cyborg and Cyborg Nation
Extract Labs– based in Boulder Colorado, Extract labs offers full service hemp extraction and a proprietary line of boutique CBD infused products.  Combat vetersouthan owned, the company provides a one-stop destination for every CBD need bringing many leading pain and inflammation solutions to the market. For a full range of product visit them online!
Official Nutrition and supplement of Cris Cyborg and Cyborg Nation
High Performance Nutrition– Health and Nutrition products designed to actually enhance health and lifestyle in ways that you can see and feel.  One of the leading nutritional companies on the market in regards to testing and using third party independent agencies to support their clinical claims.  All Natural, Organic product and one of the best tasting plant based proteins on the market! Click Here for HPN products!
Official Sweat Enhancement Gel of Cris Cyborg and Cyborg Nation
Nation Ammo Heat- Sweat Enhancement Gel which helps to safely and effectively shed excess water weight while toning, tightening target areas. Donating a percentage of each sale towards military veterans in need and their families this USA owned company is the leading sweat enhancement product available. Get your supplies HERE. 
Official Lifestyle clothing and branding apparel sponsor of Cris Cyborg and Cyborg Nation
Directional Force– is a lifestyle branding company dedicated to motivating others to inspire more.  Developed around the concepts of strength and discipline of mind over the body,  the brand looks to motivate others to remove the word impossible from their vocabulary.  Manufacturing a range of fashion and workout accessories this lifestyle company offers military and emergency responder discounts.  Shop Here!
Official Gloves and training supplies partner of Cris Cyborg and Cyborg Nation
Venum– With a variety of styles and un matched experienced in Combat Sports, Venum produces a glove to match any preferred style.   Considered by many as one of the leading Combat Sports lifestyle brands, Venum manufactures most of your training goods including; gloves, shin pads, bags, and more. Check out all of VENUM here.
Official Crypto Currency partner of Cris Cyborg and Cyborg Nation
PIVX– A leading MIT licensed, open source, blockchain-based crypt currency PIVX has ultra fast transactions, low fees, high network decentralization, and zero knowledge cryptography proofs for industry leading transaction anonymity.  Find out more about PIVX HERE.
Official Massage Tool of Cris Cyborg and Cyborg Nation
Pso-Rite- is the leading self massage tool that alleviates tightness in muscles like the psoas, lower back, neck, shoulders, hips, quads, hamstrings and more. Helping relieve most pains caused from training the Pso Rite has several different models making it easy and convenient to bring to your training sessions. Order your Muscle Release now!
Official Immigration Law Firm of Cris Cyborg and Cyborg Nation
Wilner O Reilly Immigration– Wilner & O'Reilly is an immigration law firm with offices in Orange, Fresno, Riverside, Sacramento, San Bruno California as well as Orem and Salt Lake City Utah and Boise Idaho.  Using an in-depth case analysis and attention to detail makes Wilner & O'Reilly develop highly successful, winning immigration strategies. For more details click here. 
Official Home Meal Delivery Service of Cris Cyborg and Cyborg Nation
Dacik Fit Foods– provides the freshest home delivery meals in Orange County delivering chef created well balanced meals twice a week providing lean proteins for muscle restoration, complex carbs for energy, and fibrous vegetables for your metabolism. Dacik Fit foods are never frozen and they source fresh, local, organic ingredients that are sustainably and ethically produced. Order your meals HERE!
Official Acai Provider of Cris Cyborg and Cyborg Nation
Acai Republic– providing Orange County with top grade Acai and healthy fruit and food options. Serving smoothies and Brazilian favorite like Salgados, Acai Republic has become one of the top spots in Orange County for their freshly made and healthy meal options.  To located an Acai Republic click here.
Official Vacation Destination Gym of Cris Cyborg and Cyborg Nation
Phuket Top Team– one of the leading combat sports facilities in the entire world, Phuket Top Team is home to several Brazilian Jiu Jitsu Black Belts, MMA, and Muay Thai champions located on the tropical island of Phuket in Thailand. To book your vacation click here.
Official Athletic Performance and Recovery technology partner of Cris Cyborg and Cyborg Nation
Ascent and Adaptation– This unique one of a kind facility in Orange County incorporates cutting edge technology specializing in methodologies that aid the body in regenerating on a cellular level, improving Blood Flow, Detoxification, Oxygen, and Nutrition by forcing the body and mind to adapt and become stronger through strategical regimens using technology to improve overall performance. For more details on exactly what that means visit here.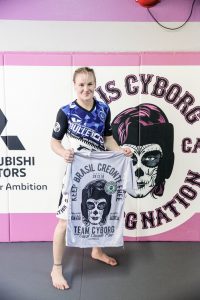 Tickets for UFC 232 are currently on SALE. If you are not going to Las Vegas for the event, be sure to catch the Pay Per View broadcast Dec. 29th with your cable provider! Wherever you watch UFC 232 #CyborgVsNunes be sure to have your #KeepBrasilCreonteFree shit, order yours in our online shop!