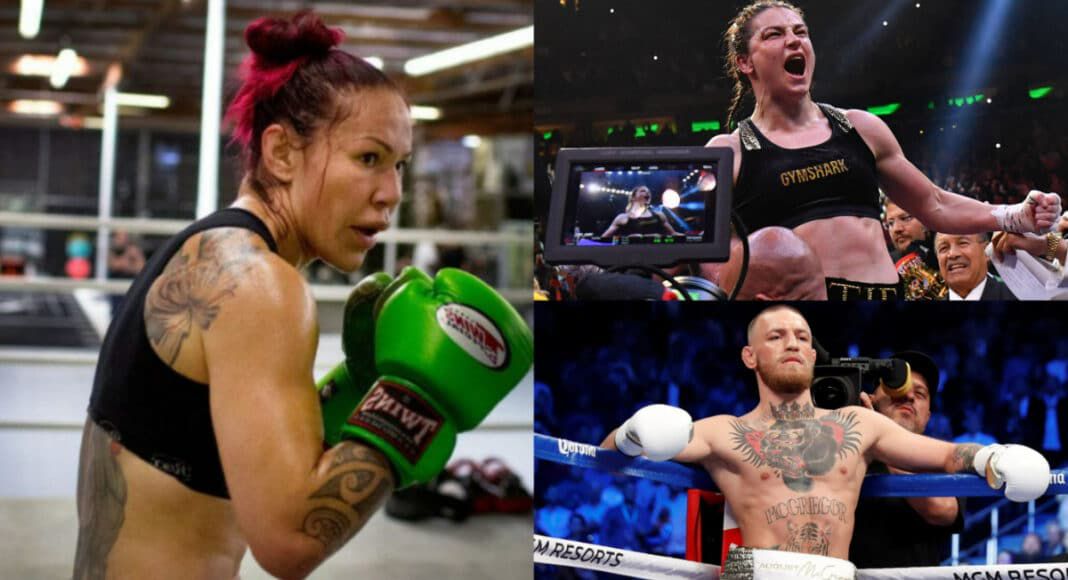 Cris Cyborg is considered a legend in the sport of Mixed Martial Arts becoming the only professional fighter in the sport of MMA to be considered a Grand Slam Champion after winning every major World Championship including Bellator MMA, UFC, Invicta FC, and Strikeforce Championships at 145lbs.  A Two time Brazilian Jiu Jitsu IBJJF World Champion competing in the Gi, Cyborg has won National level Greco Wrestling tournaments, and earned a Bronze medal at the ADCC Submission Grappling tournament.  Competing in Muay Thai Cyborg went 5 rounds with the GOAT of Women's Muay Thai Jornia Baars in just her 3rd professional Muay Thai Fight.  Helping pioneer and open doors in various Martial Arts, Cyborg is considered a true legend with Global recognition throughout the Martial Arts communities and fans of Combat Sports.
Katie Taylor is an Olympic Gold Medalist and an undefeated boxer who was 1/2 of the biggest night in Women's boxing when she defeated Amanda Serrano via a controversial split decision.  Taylor who is currently 21-0 as a Pro will be defending her World Championships against Karen Elizabeth Carbajal the same night Jake Paul faces Anderson Silva live on Showtime Boxing.
Speaking with the Irish Mirror Cyborg had this to say when asked about Connor McGregor competing alongside her on the card, "With Katie and myself you have two of the greatest athletes in combat sports. You would be taking an icon from boxing and an icon from MMA and placing them together in the ring for something legendary and historic."
"Both Katie and myself have fought our entire career to help create opportunities for other women in our respective sports. Conor has only won one fight in the past six years, and I think with all the controversy he has had outside the ring, it just wouldn't be a good fit for an event look to empower the next generation of women entering combat sports."
With Conor Mcgregor no longer in the active USADA testing pool for the UFC rumors started last week that IBO Superwelteweight champion Dennis Hogan could fight Mcgregor on a possible event to be held at Croke Park which has a capacity of 80,000 fans.
Cyborg went on to say that Katie has already started talking about retirement and implied that team Taylor is looking for safer fights to keep her undefeated record as she prepares for retirement.
Cyborg who made her professional boxing debut when she captured the FMS Super Welterweight Championship belt in her native Curitiba Brazil said that she "has two big fight options in MMA with bouts between either Cat Zingano or Kayla Harrison as super fights" and said, "If talks for a Katie Taylor fight don't start soon my training focus is going to have to transition back towards MMA to make them happen."
If Taylor fights Cyborg remains to be seen, however it appears Cyborg would prefer it to be a card headlined by two Icon's of the sport and an event built around empowering the next generation of Female Combat Sports Athletes.  With Taylor she has a possible fight with Holly Holm who will be fighting the final fight on her UFC contract early next year and the rematch against Amanda Serrano as other big fight possibilities capable of filling a stadium in Ireland.