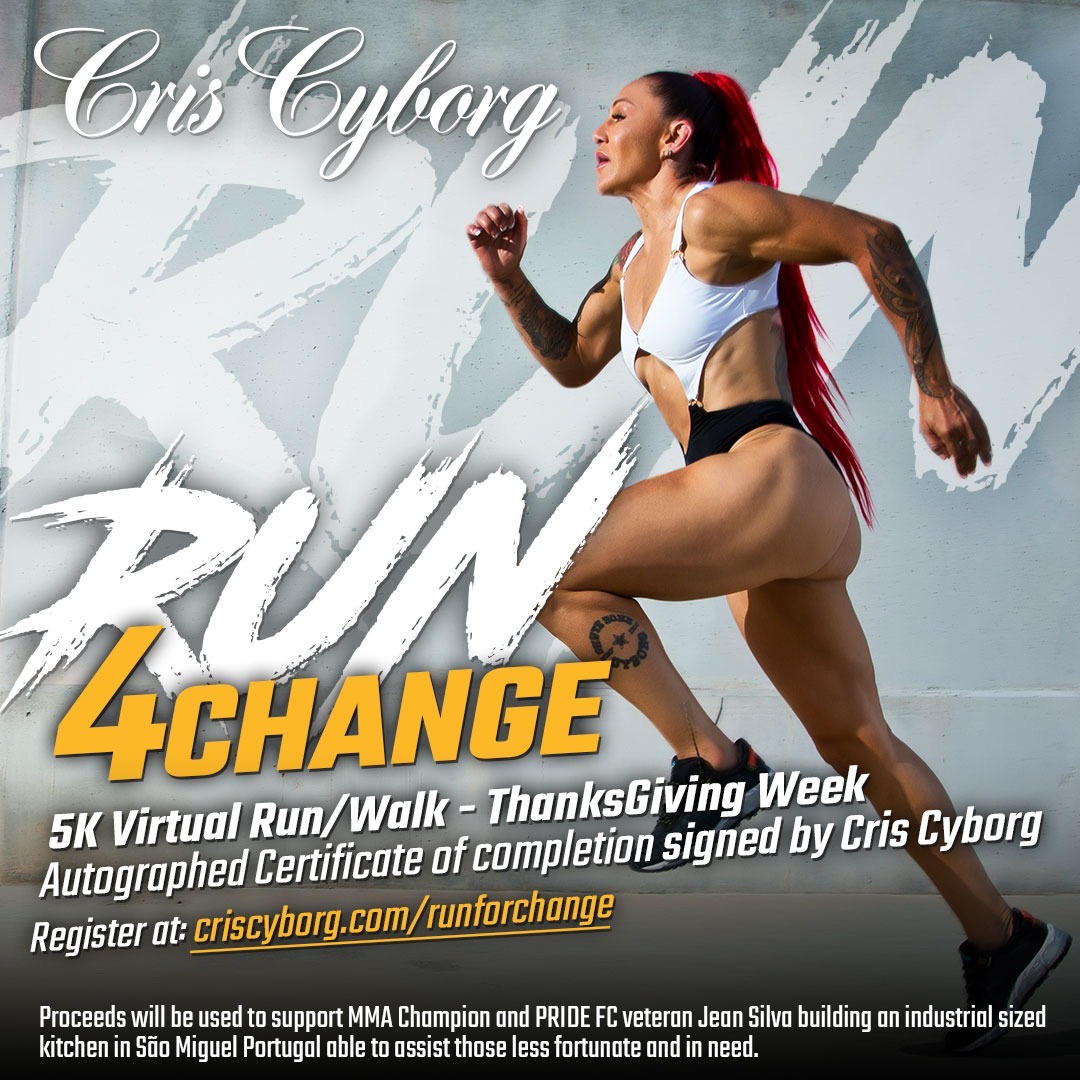 This Thanksgiving Cris Cyborg has teamed up with former MMA Champion and Pride FC Jean Silva to create a virtual 5K race with the proceeds being used to help create an industrial sized kitchen which can be used by Jean Silva and his team of evangelistic missionaries on the island of  São Miguel Portugal to help feed those less fortunate and in need this holiday season.
Participants in the 'Cyborg Run for Change' event can register HERE.  Once you have registered for the 'virtual race' you will need to run your 5K sometime between Nov. 23-29th remembering to keep track of your official time.  Everyone who registers online will receive an Autographed certificate of completion for the Run for Change event complete with MMA Grand Slam Champion Cris Cyborg's signature through the mail.  There will be a place on the official certificate mailed to you for you to add your official time once your certificate has arrived. For those of you wanting to complete the challenge as a walk, or are simply wanting to make a donation to support a worthy cause you will still receive your certificate signed by Cris Cyborg in the mail!
Proceeds from the event will be sent directly to Jean Silva and his team so that they can continue completing the missionary work they have been doing to help those less fortunate and in need.  For fans wanting to complete the run at the exact time as Cris Cyborg, she will be running live on her Youtube Channel  Thanksgiving morning Thursday the 26th of November at 8am PST.  Participants who would like to make a donation or find out more details about the outreach project can visit the Go Fund Me for the project.