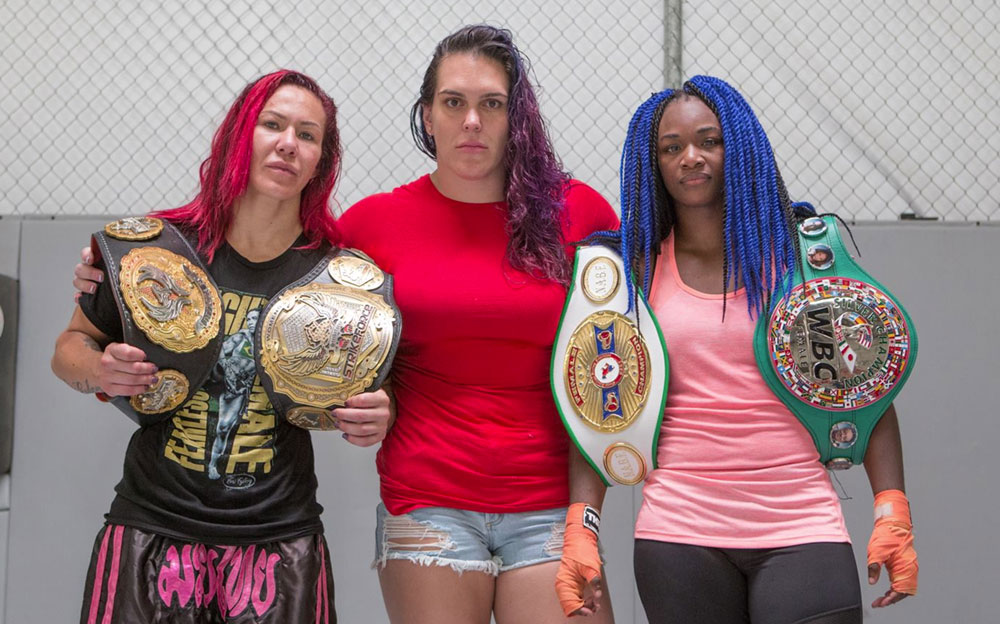 It doesn't get much bigger in the world of female combat sports when a 2x Olympic Boxing Gold Medalist meets up with the P4P best MMA female fighter in the world, and a female IBJJF hall of fame athlete, but that is exactly what happened when Clarissa Shields joined Cris Cyborg and Gabi Garcia for training ahead of UFC 214 Anaheim July 29th California.
Claressa Shields is currently 3-0 as a professional in female boxing and is a 2x Olympic Gold Medalist for USA Boxing. Her next fight will be Aug 4th on Showtime for the WBC belt. currently Claressa would not have a weight division equivalent to the one she competes in boxing at if she were interested in transitioning into the UFC.
Cris Cyborg has gone undefeated for 10 years in the sport of MMA and is a 2x IBJJF world champion in the Purple Belt Kimono divisions. A medalist in ADCC and a Lion Fight veteran of Muay Thai Cris Cyborg has captured 2 world titles at 145lbs in MMA and will be fighting for the vacant UFC featherweight belt July 29th at the Honda Center in Anaheim California.
Gabi Garcia is a Brazilian Jiu Jitsu Black Belt from Team Alliance and has won more World Championships in BJJ Brazilian Jiu Jitsu than any other female athlete to compete. A member of the IBJJF Hall of Fame, Gabi Garcia has recently transitioned to MMA and is currently 4-0 in the Rizin fighting promotion in Japan.
These three women training together was a great example of how empowering ladies can be for one another when they help each other achieve their goals. Claressa Shields and Gabi Garcia both have helped Cris prepare for UFC 214 against Tonya Evinger a late replacement for Megan Anderson.