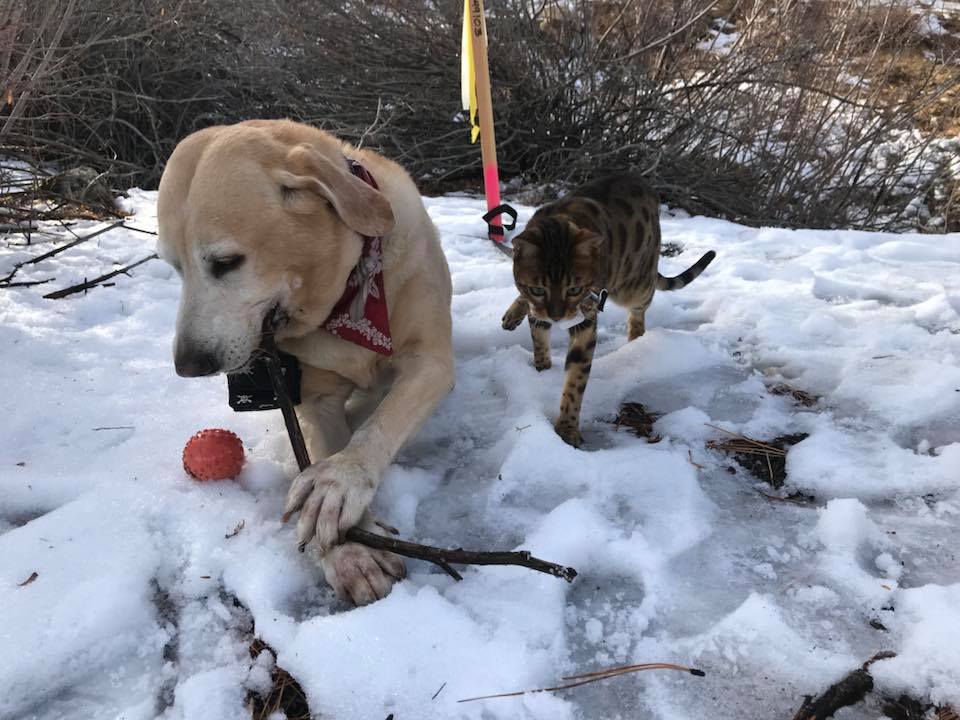 When asked what job she would have if she wasn't fighting, Cris Cyborg recently told interviewers, "When I lived in Brazil I use to work at a Pet Shop and thought working for a veterinary clinic would be a fun job, I love animals and would love to help them for a living."
The UFC Champion, recently became the first UFC Champion to visit Malaysia when she came to host a seminar to help bring awareness for the Kuala Lumpur Pooch and Rescue. Ran by Shannon Lam the facility features a pet hotel, a pet rescue, and an entire process of rehabilitation for dogs who have been abandoned or abused.
Cyborg who already owns a 9 year old male Golden Labrador Retriever named Fedor and a one year old F3 Bengal female kitten named Layla Ali recently added another pet to the family, with the addition of 6 month old Male F1 Bengal Kitten named Sugar Ray leopard.  Fedor and Layla have been happy with the additional playmate added to the family.
While previous attempts to potty train the F3 Layla Ali kitten were quickly abandoned, it appears the new kitty, Sugar has taken to the toilet training positively.  Bengals who love water are known to use the sink, toilet, or even shower as a liter box, however with proper training the can be taught to use the toilet as their disposal place.
Check out the awesome Video of Cris Cyborg's cat Sugar Ray Leopard using the toilet to go number 1!
Cyborg Will be fighting in Las Vegas Nevada in 9 days as the main event of UFC 222 against Yana Kunitskaya or Russia.  Yana who is a former world champion at 135lbs is moving back to featherweight after a recommendation by the CSAC for her to compete at a higher weight once records showed she gained more than 20pounds after properly rehydrating before her last fight.  Yana who is 8-1 at Featherweight will be returning to 145lbs after going 2-2 at the extremely dehydrated weight of Bantamweight. Tickets for UFC 222 are currently on sale.

Change the fitness game forever!  Learn how easy it is to record your Micro and Macro nutrients and STOP CARRYING a NOTEBOOK to the Gym! To download the App on your Iphone click here!  If you are using an Android phone you can get this technology here.
Many fans of Cyborg Nation will remember Cris bringing Laila Ali to Las Vegas when she fought Holly Holm, as seen in the Cyborg nation Video series her team produces fight week, with her upcoming March 3rd fight there is no word if Cyborg will be bringing Sugar to Las Vegas, fans will have to watch the upcoming episode of Cyborg Nation to find out!