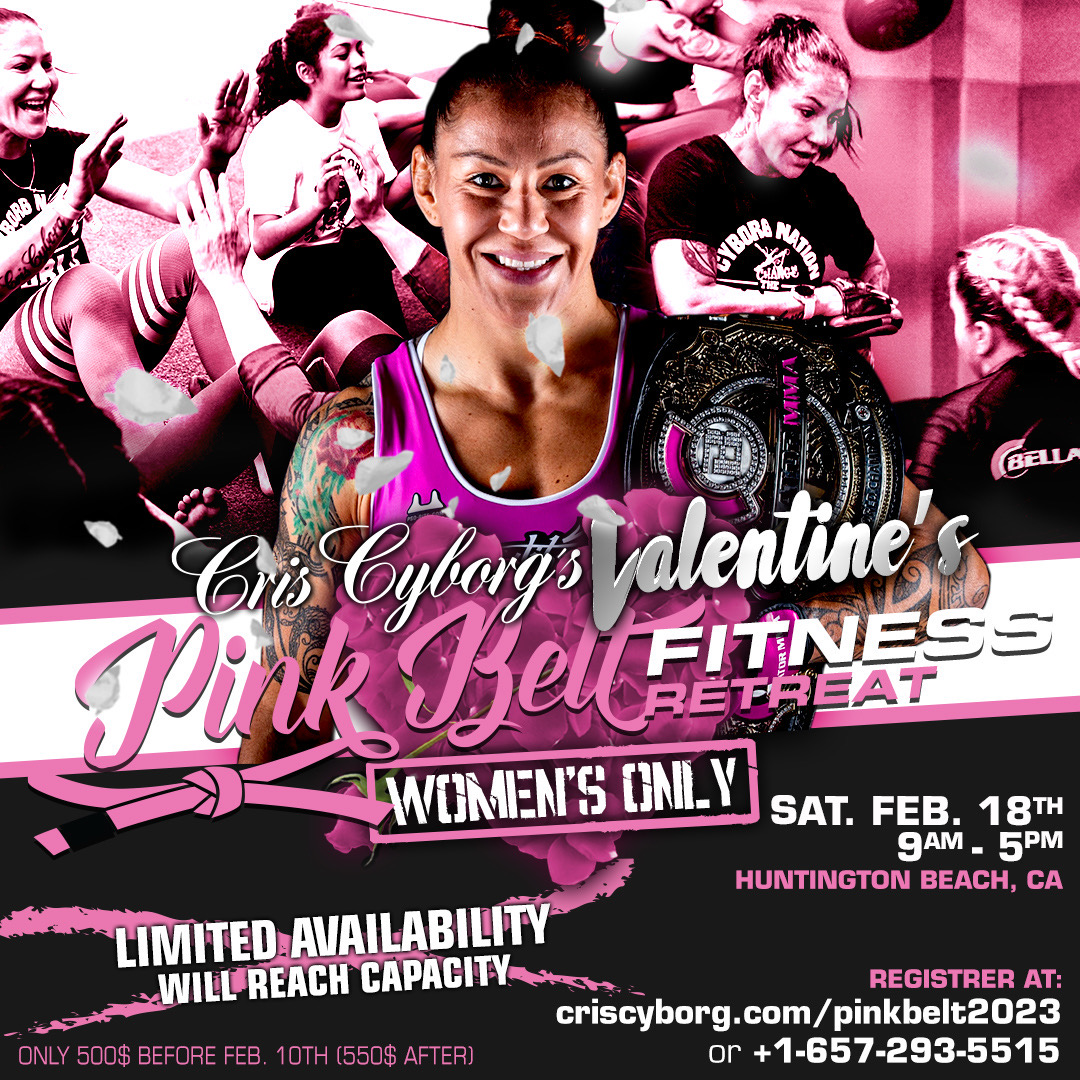 After having won Championship belts with Bellator MMA, UFC, Invicta FC, and Strikeforce; Cris Cyborg is recognized as the sport of Mixed Martial Arts only Grand Slam Champion.   As impressive as those accomplishments are inside of the cage, many people feel the work she is doing to create change and inspire others outside of the cage is going to be the Grand Slam Champions ultimate legacy within the sport.
February 18th join Cris Cyborg for a  once-in-a-lifetime experience during her Women's Only Pink Belt Fitness Retreat.  Starting at 9am and going until 5pm participants will spend an entire day training alongside, or being coached, by the MMA Champion and her team of World Class Coaches in a variety of classes ranging from fitness, self defense, fun and games before concluding the Retreat with a special group Dinner along with Cris Cyborg.
The entire day is both Martial Arts and Fitness beginner friendly.  Cyborg along with her team of Coaches will lead an activity filled day of training and fun in a safe and controlled environment that is guaranteed to leave every women feeling empowered and inspired by the things they will learn and the Pink Belt Fitness Sisterhood they will experience!
The Pink Belt retreat capacity is intentionally kept small to ensure each person participating will get quality 1 on 1 time with Cris Cyborg in a truly once-in-a-lifetime experience giving every person taking the Pink Belt Fitness Retreat an opportunity to get to know Cris with a more personal and intimate relationship before officially becoming a Pink Belt Fitness Sorority sister at the end of the retreat, and because of this we guarantee it will reach capacity. Once the retreat has full reached capacity registration will close. No exceptions will be made this year.  
Make sure to secure your spot at the 2023 Cris Cyborg Women's Only Pink Belt Fitness Retreat February 18th
Registration before Feb. 10th is only $500 and includes a Free T-shirt & Dinner. After the 10th of Feb. registration increases to $550.
Don't miss this once in a lifetime opportunity to experience the life changing benefits of Martial Arts with a small group training led by female pioneer Cris Cyborg and her team of skilled coaches.  Martial arts are a great way to improve your self confidence, lose weight, gain strength, recover from an injury, build self discipline, protect yourself, and offers so many other life changing benefits.
This is a perfect gift idea for the daughter, mother, aunt, or friend who you know is in need of something special, give them the memories that will last a lifetime.