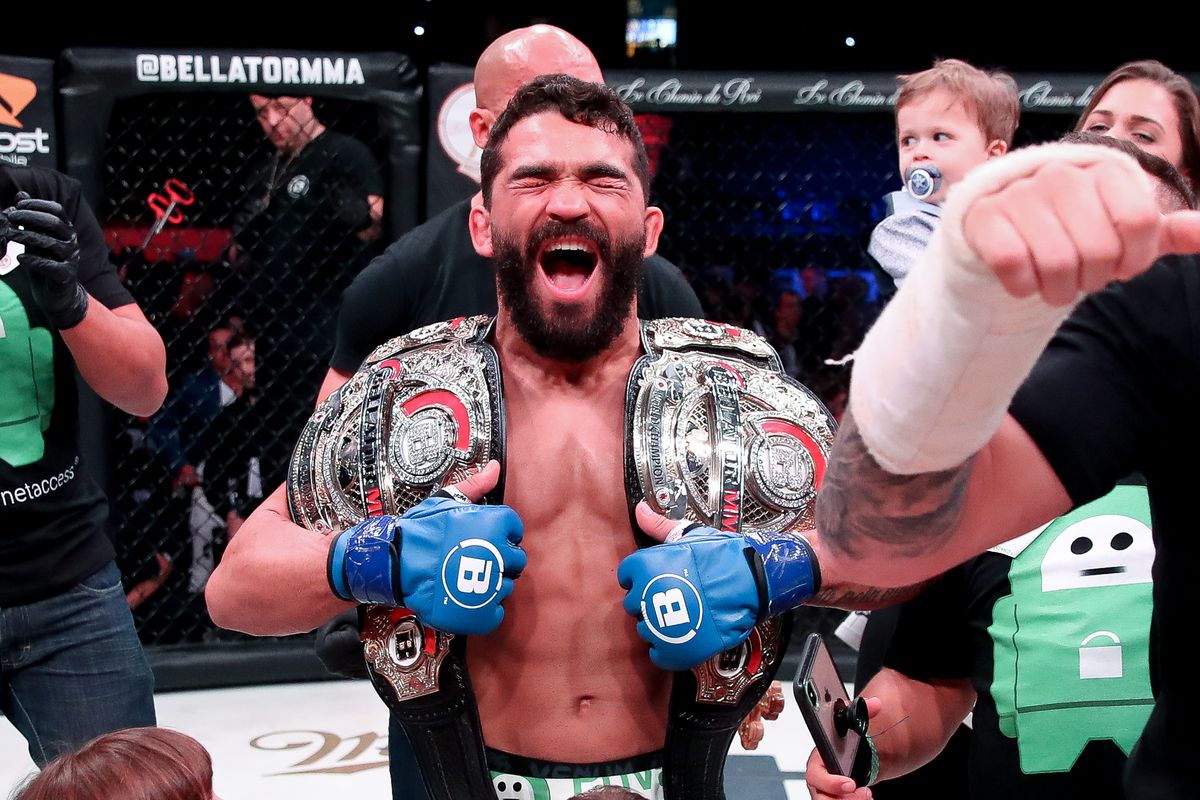 In terms of legacy, Patricio Pitbull Freire certainly has written his over the course of his Bellator MMA career. Making his MMA debut in Brazil Patricio the younger brother of Patricky began his Pro MMA career in 2004 and following a 6 year unbeaten period that saw him make his Bellator MMA debut in 2010 as a 12-0 prospect with notable wins in Brazil over Jadyson Costa, Vinicius Zani, and Joao Paulo Rodrigues De Souza amongst others. Defeating Will Romero and BJJ phenom Wilson Reis Pitbull lost a controversial split decision to American USA Wrestling star Joe Warren.
Capturing the Bellator season 4 tournament by defeating Daniel Straus before suffering a split decision loss to Pat Curran for the Featherweight belt. Winning the Bellator season 9 tournament with a TKO over Justin Wilcox and 3 other victories, Patricio earned a rematch against Pat Curran and won the belt with a victory decision which he would go on to defend twice before losing the championship to Daniel Straus.
Submitting Daniel Straus in a fourth career fight, Patricio became a two-time Bellator MMA World Champion defending the belt at 145lbs against both Daniel Weichel and Emmanuel Sanchez before moving up to face eventual UFC Star Michael Chandler for the 155lbs Lightweight belt.
Knocking out Michael Chandler in the first round, Patricio became the 2nd Bellator MMA fighter to become "Champ, Champ" joining Ryan Bader. Suffering a loss at Bellator 263 in the Featherweight Grand Prix to undefeated star AJ Mckee, Patricio would go on to secure a close split decision victory over AJ Mckee to avenge the defeat becoming a 3x Featherweight Champion.
Not looking to hold his brother back, Patricio vacated the Lightweight Belt and now Friday June 16th in Chicago he will look to make history as the only three division world champion in the history of Mixed Martial Arts when he faces Bellator Bantamweight Champion Sergio Pettis. With a victory Patricio will have successfully held belts in the Bantamweight, Featherweight, and Lightweight division and have wins over some of the biggest names in the sport.
What do you think? Will Patricio become a 3 weight class champion? Leave your comments on the fight against Sergio Pettis below