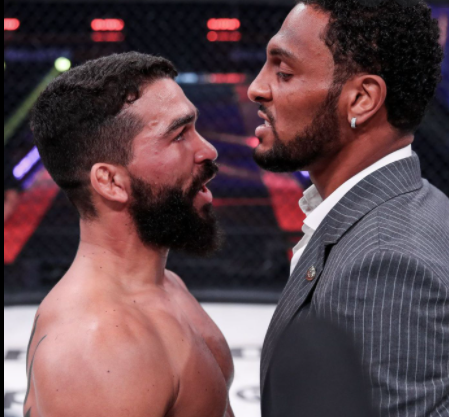 Patricio Freire most known as just Pitbull lost for Antonio De Carlo McKee Jr also known as just AJ McKee for the main event on Bellator. Patricio Pitbull is a Brazilian mixed martial arts fighter who is  currently fighting  in Bellator MMA where he is the onlyLightweight Champion and he is also the  current Bellator Featherweight Champion. He is the younger brother of the  lightweight fighter Patricky Freire who also fights in Bellator asked for a potential rematch on the lighweight division against the new champion AJ McKee. The fight was won by AJ McKee 

Antonio De Carlo McKee Jr also known as just AJ McKee fough in the main event against Patricio Pitbull on Bellator July 31 on Bellator 263, he is an American mixed martial arts fighter who is currently competing in Bellator's featherweight division. Since June 15, 2021 #6 in the Bellator men's pound-for-pound rankings and #1 in the Bellator Featherweight Rankings. Tonight on Belator the fights are also going to be having different fighters that are going to be fighting on the  event  are Mads Burnell vs. Emmanuel Sanchez. Cris Cyborg attended the evnt with friends to support all of the fighters that worked hard and did their best out there. Patricio Pitbull was asking or talking about a possible rematch in the lightweight division on Bellator in Brazil, he's coach also said that he is been the champ for so long and always fought in different places and never in his hometown Brazil and that they would love to have a rematch in Brazil where the whole crowd would be for him like everyone in the crowd here in Los Angeles were for AJ. Cris Cyborg attended the fight and thought that the fight was a great fight  however she was on team Pitbull since they are both from Brazil etc. Cyborg thinks that Pitbull still has a chance to get his place back as long as he trains and keeps his head up.
Cris Cyborg is a world MMA champion, today fighting in Bellator. Cris Cyborg has 4 different belts including  a Bellator, UFC, Invicta and Strikeforce belt.  Cyborg was born in Curitba, Brazil and now lives in Huntington Beach, California. Cris started to get involved in sports when she was around 15, she started with Handball and one day a MMA coach from a well known gym in Brazil named Chute Boxe saw her training  and asked her to participate in one of the practices, she did and ended up falling in love with it. Cris Cyborg has a passion for animals and is the owner of Two dogs, a Bengal cat, a mini pig,  a Maine Coon and multiple Fish & Birds at Cyborg's zoo.