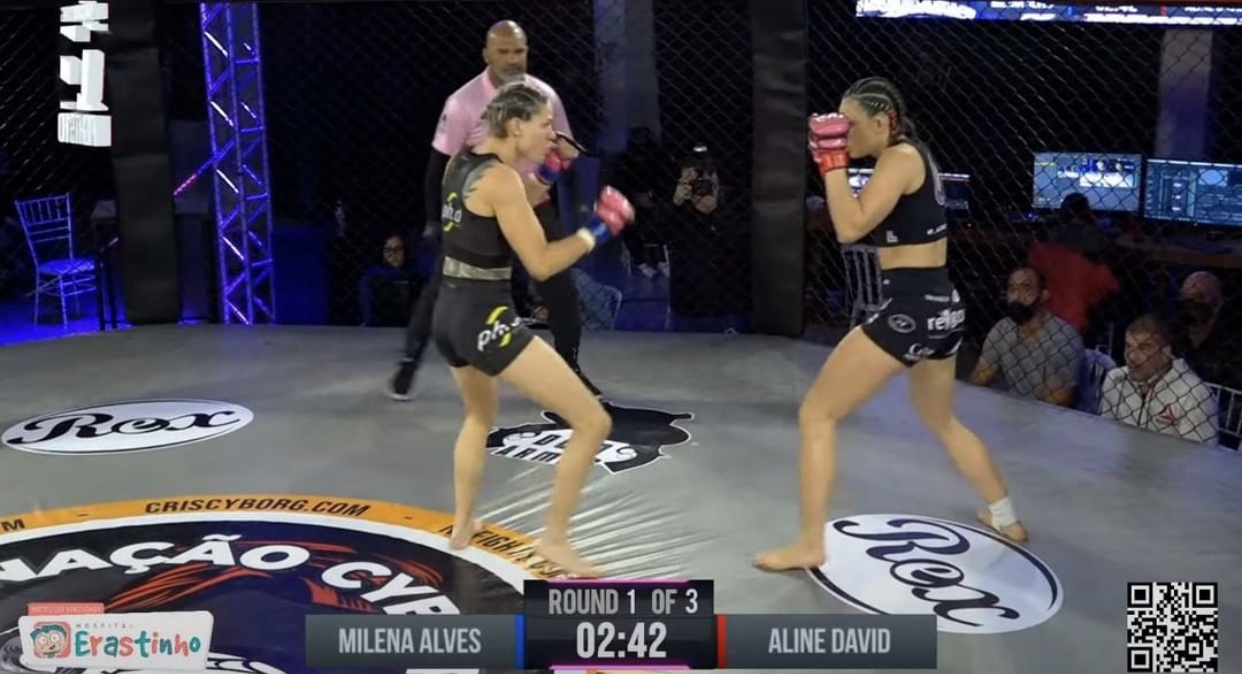 Cris Cyborg working with her Brother Rafael Justino and his team in Curitiba Brazil continue to impact the communities around them–this time using the Nacao Cyborg Fights promotion as an opportunity to help raise funds for the Cancer Hospital Erastino by promoting an all female combat sporting event during the month of October, which promotes Breast Cancer awareness.  NCFights has established itself as the number 1 mixed combat event in the south of Brazil, after breaking both attendance and viewership records with Band Sport TV, before the formation of the new NCFights digital series.
The Main Event featured Champion Elisandra Ferreira defending her championship belt after 5 rounds of action by decision, while Claudia Leite captured her belt with a RNC victory over Tayna Lamounier with less than 20 seconds remaining in the 5th and final round.  Other highlights included Aline David improving to 2-0 as an amateur with a KO win over Milena Alves and Sarah Barwick picking up her first professional win by KO in round 2 of her fight against M. Vicente. Fans enjoyed the fights live streamed around the world from Brasil on NCFights.Com 

Fans looking to get their Nacao Cyborg Fights merchandise can do so in the official Cris Cyborg online shop here.  With 10 fights all being a mixture of Professional and Amateur, MMA, and K1 style fights NCF 10 was a great night of action with only Nicolle Caliari failing to make weight having her championship fight against Bruna Brasil canceled.  NCF has recognized Nicolle Caliari who was scheduled to compete Wednesday, will be fighting for another promotion on Saturday–despite missing weight for NCF 10 and causing her opponent who travelled from Sao Paulo to go without a bout.  Cris Cyborg announced earlier today on Instagram that the bout with Nicolle Caliari will not be rebooked, instead releasing the athlete from any future possibilities with the promotion.  NCF will look to rebook Bruna Brasil on a future event. Check out the full NCF10 results here.