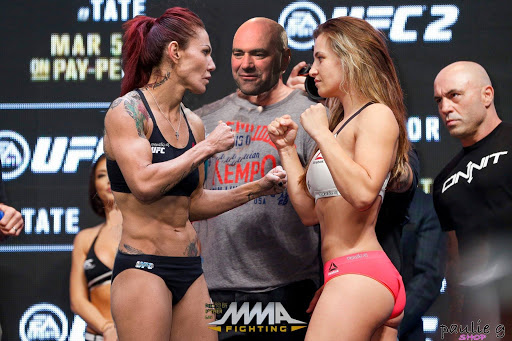 Two of the biggest names in the sport Cris Cyborg and Miesha Tate never met inside of the cage despite both being StrikeForce and UFC Champions at some point in their career.  While Cris Cyborg never competed at 135lbs, she did have two super fights against fighters at 140lbs and though she campaigned for one of those bouts to take place against Miesha Tate, UFC Matchmakers gave her Lina Lansburg and Leslie Smith respectively.
Miesha Tate considered one of the pioneers and icon's of Women competing in Mixed Martial Arts is a veteran grappler who owns a RNC submission victory over  Holly Holm where she accomplished her goal of winning the UFC Championships adding it to an already impressive resume which included a Strikeforce Bantamweight Championship.  Miesha who has retired from MMA to work with One Championship in Singapore recently relocated back to the USA.  A veteran of the Submission Underground grappling event hosted by Chael Sonnen, Miesha replied by saying Cyborg was always an athlete she was interested in fighting against during her competitive MMA career and that given the time to prepare properly she would be interested in the super fight.
Cyborg then later retweeted Miesha's comments, saying the bout would deserve a Championship Belt.  What do you think Cyborg Nation?  Do you think we will see Cris Cyborg Vs Miesha Tate in 2021 taking place on the grappling mats?  What type of rules would you like to see them compete under?  Would you like to see the match in the Middle East? Asia? Brazil? USA? Leave your comments below!