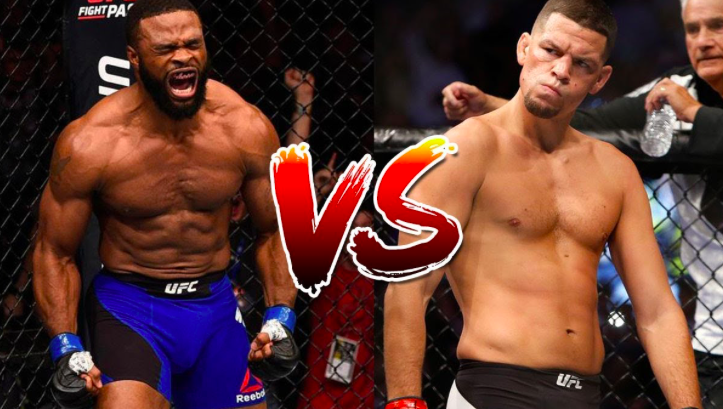 For those of you that bet the house two months ago that Tyron Woodley would face Nate Diaz next for the world title, it appears you might be right!  Despite the news that Dana White had reported on UFC on Fox and the fact that the UFC has recently announced another Interim Title, this time in Tyron Woodley's weight class of 170lbs in now appears as if the Champion is in negotiations for a blockbuster fight this summer.
Speaking to ESPN, Current UFC Champion Tyron Woodley said, "I think that fight will happen,I think it will happen this year. I think it's way more likely than people realize"
he went on to say, "There are conversations about Nate and I fighting in July. The UFC has offered Nate that fight. They just have to make it worth his while. I think I'll fight Nate this year, and I think it will be my return to the Octagon. If I had to bet the house on it, that's my next opponent.
Do I think Nate will fight me? Yes, for the right amount of money and the right time in history, I do," Woodley said.
"Is it a good fight for him? No. I'm a lot faster. I punch a lot harder. I can take him down. He's not going to submit me.
"That said, it's not a good fight for him. So, they have to make it up to him in dollars and cents.
"I just want to do something that's going to push me forward career-wise or push my legacy," said Woodley. "I need both. I need super fights, and I need to continue to knock off these rising contenders.
"I've been fighting the best of the best since Strikeforce. It's not like I'm asking for anything that I haven't paid my dues for. I had to earn this position the hard way."
Nate Diaz last win was March of 2016 against Conor McGregor, and before that his last win was Dec. 19th 2015 at 155lbs. Despite the fact that Nate is coming off a loss to Conor in the rematch at UFC 202, this wouldn't be the first time a fighter has gotten a title shot off of a loss. Fans will remember Holly Holm being given a title shot at 145lbs despite having just lost to flyweight Valentina shevchenko.
RDA who is currently scheduled to fight Colby Covington in Chicago for an Interim Title fight, won't get the next chance at the 170lbs belt if the ESPN speculation is true. Despite the fact that Rafael Dos Anjos has put together an impressive winning streak at 170lbs. Tyron Woodley tried to tell Rafael Dos Anjos that matchmakers where lying about his availability earlier in the month.
UFC, Nate Diaz in serious talks for August return — https://t.co/GbJP3rZmer

— Ariel Helwani (@arielhelwani) May 1, 2018