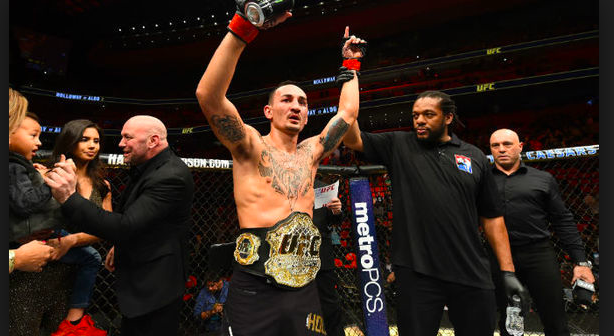 Max Holloway and "The Blessed Era" is just getting started, and he doesn't care that a fighter who is 19-0 with 18 nick outs in boxing is on twitter talking about how he wants to fight in the UFC.  Gervonta Davis the boxing protege of Floyd Mayweather recently posted on twitter that he was thought he wanted to fight in the UFC, and when asked which weight class he replied "Any one ill bat all y'all ass", probably because he missed weight for his last boxing match.
I think I want to fight in the UFC

— Gervonta Davis (@Gervontaa) March 10, 2018
Max Holloway took the time out of his day to reply saying he can become a comedian too.
Any one ill beat all y'all ass https://t.co/tnR0sU83lI

— Gervonta Davis (@Gervontaa) March 10, 2018
Holloway who is 26 years old has back to back wins against Jose Aldo after beating Jeremy Stephens, Ricardo Lamas, Cub Swanson, Charles Oliveira, and Anthony Pettis on his run since losing to Conor McGregor in 2013.
😂😂😂😂😂 you can become a comedian too https://t.co/d2Jm8axKtf

— Max Holloway (@BlessedMMA) March 10, 2018
What do you think Cyborg Nation? How would Gervonta Davis do in the cage fighting across from Max Holloway? Would you like to see more fighters cross over from Boxing to MMA? How would Max Holloway do in boxing against Gervonta Davis? Sound off in the comments.

If you are looking to start off the summer right, get started with my functional meal and diet plans.  Working together with the creators of the Better Human App we have developed an easy and convenient shopping list and meal plan that will help you reach your micro and macro intake needs.  To get your hands on the plans, click here!