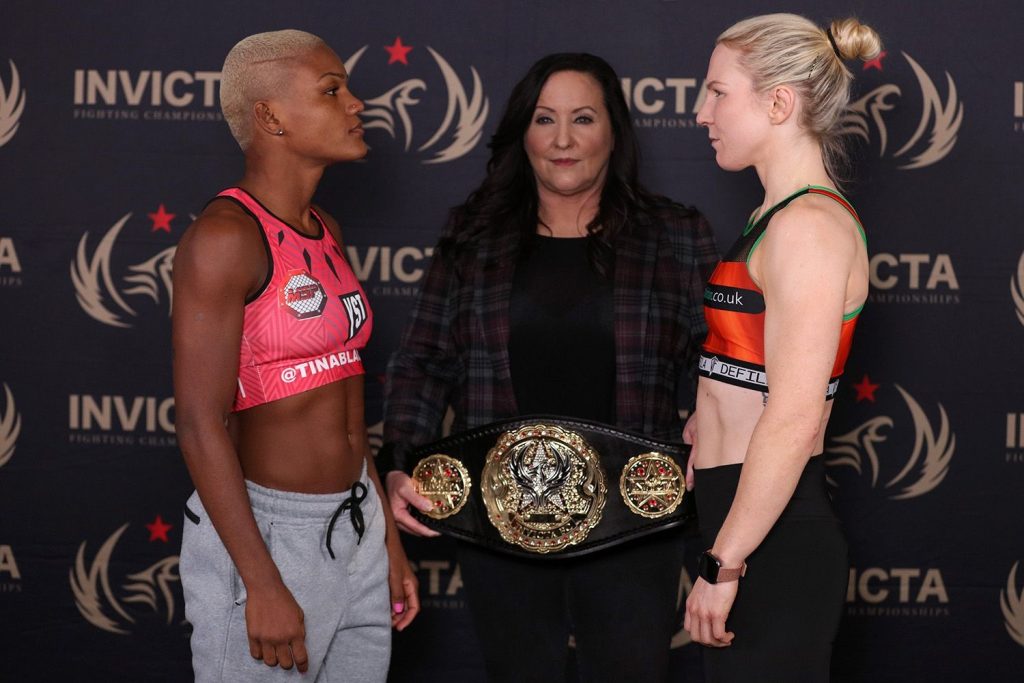 Invicta FC 52: Machado vs. McCormack is headlined by the first title defense for strawweight champion Valesca "Tina Black" Machado (12-3), who collides with Ireland's Danni "Mac" McCormack (6-2). The event will be overseen by the Colorado Combative Sports Commission and will feature open scoring. It kicks off at 9 p.m. ET/7 p.m. MT, and airs live on Invicta's official YouTube Channel and Facebook Page, AXS TV in the U.S., Fight Network in Canada, Fox Sports in Mexico, Globo's Combate in Brazil, DirecTV across Latin America, Viaplay and Match TV in Europe and Star Times across Africa. Tickets to the event are on sale now through Eventbrite.
The complete fight card:
Strawweight Title: Valesca Machado vs. Danni McCormack
Strawweight: Karolina Wójcik vs. Ediana Silva
Strawweight: Minna Grusander vs. Shauna Bannon
Bantamweight: Montserrat Rendon vs. Maria Favela
Featherweight: Ramona Pascual vs. Kaylee Vos
Strawweight: Fatima Kline vs. Natalia Kuziutina
Strawweight: Sayury Cañon vs. Amanda Macioce
Invicta FC is an all female mixed martial arts promotion which has featured most of the top female fighters in the sport of MMA competing for the organization.  Ran by a female promoter named Shannon Knapp the organization is the only all female league in the sport.  Cris Cyborg won her 2nd World Championship with Invicta FC and was their champion from 2013 until 2016 when she vacated her belt allowing Interim Champion Megan Anderson to be promoted to promotional champion after Cyborg moved into the UFC fighting promotion.