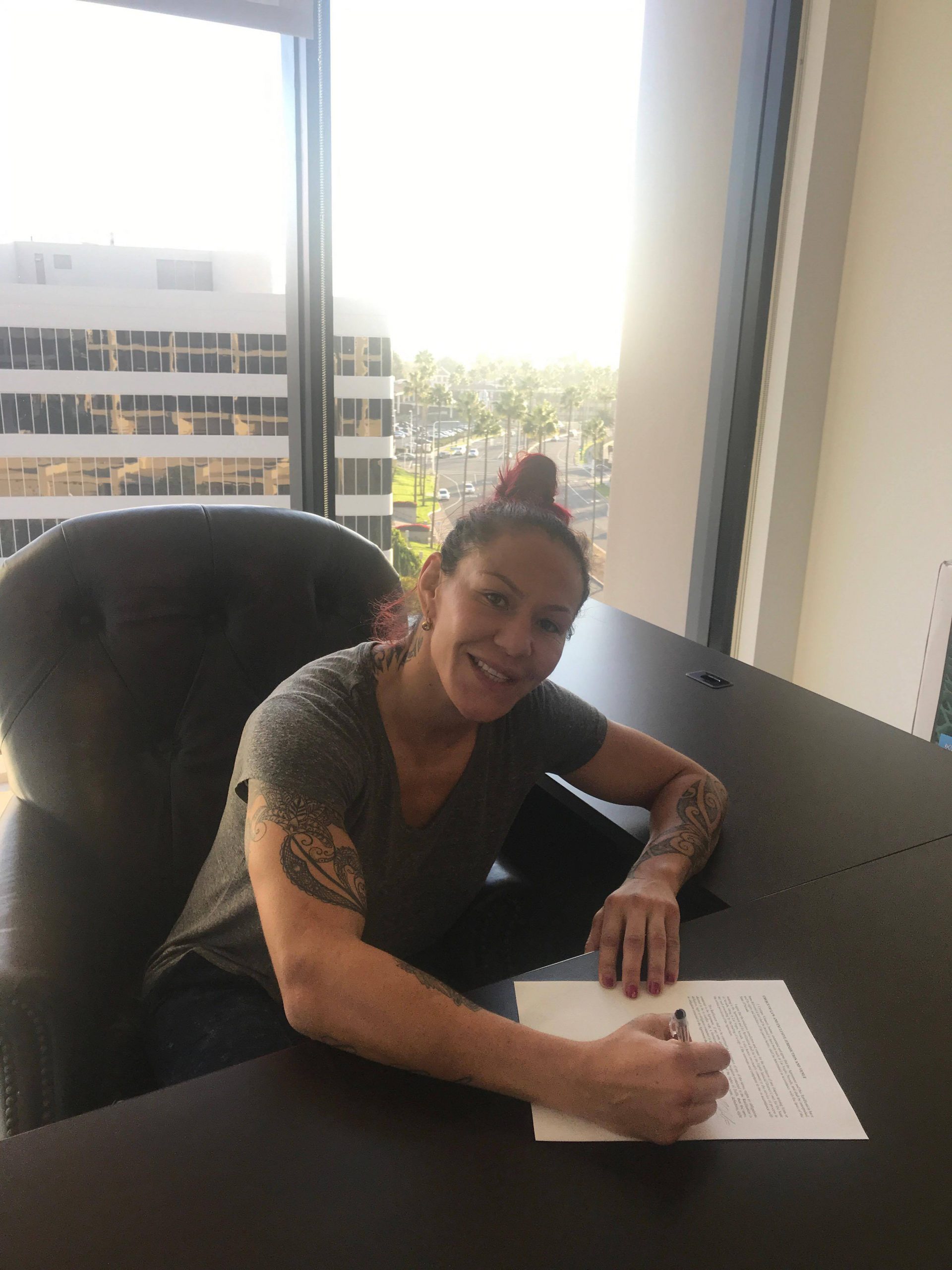 Cris Cyborg was Co-promoter for the first ever California State Amateur Female Championships held in conjunction with CAMO and Get Down Fights last year.  The event featured future Bellator MMA standout Brooke Mayo winning her last Amateur fight before turning pro.
After the success of her American event, Cyborg working with the City of Colombo's mayor and her team at The Rock Gym are set to promote another night of Combat Sports Action, this time in Brazil.  Cyborg will be bringing International fights with her first 'Cyborg Nation' Mma event scheduled for Saturday in Brazil.
The full event schedule for Fight Week is as follows,
Tonight, Wednesday April 4th- OPEN WORKOUTS 8-10PM: located inside the Park Shopping center of Colombo.  Rua Dorval Ceccon, 664- jd. Our Lady of Fatima, Colombo- PR.  This will be your opportunity to meet the fighters before the event and take photos/videos with them. This event is open to the public.
Friday April 6th- Public Weigh In's 10AM-12PM. Park Shopping Centre of Colombo, this will be a chance to see the official fight card weigh in to make the bouts official. The event is open to the public and will be another opportunity to meet the fighters, members of the press and public are welcome.
Friday April 6th- Main Card Press Conference 7-9pm Park Shopping Centre of Colombo, will feature the main card fighters, each combatant will face off for media and fans, media interviews will also be conducted at this time, open and free to the public.
Saturday April 7th, FIGHT NIGHT, Rio Verde Sports Gym, Rua Budapeste, 50, Colombo-PR. 430 Gates Open, 5PM street dance show, 5:20 Presentation New Earth Coral, 5:30 Brazil National Anthem, 5:35 start of fights.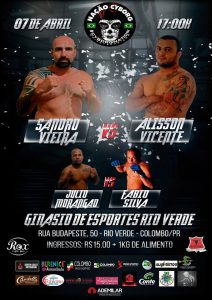 COMPLETE FIGHT CARD AS FOLLOWS:
Professional MMA:
120 KG Sandro Vieira (T-rex Fight Team) Vs. Alison Vincente (Chute Boxe)
93KG Julio Morangao (Pele Team) Vs. Fabio Silva (Chute Boxe)
61KG (Female fight) Melissa Gato (Team Bronx) Vs. Kethylen Rothenburg (Alexandre Heman)
57KG Rangel Santos (Dile Ribeiro) Vs Silas Alves (Thai Brazil)
Professional Kickboxing:
52KG Ketny Silva (SS Team) Vs. Nagila Bruna (Chute Boxe)
57KG Gabriel Jung (MM Fight Team) Vs. Maicon Bruno (Chute Boxe)
Jiu Jitsu Match
120KG Alex Owl (CheckMat) Vs Everson Monkey (Chute Boxe)
Submission Grappling
80KG Luciano Contini (Athos BJJ) Vs Rene Vilega (Costa Rica)
Preliminary Card
MMA Amateur
Matheus Correia (LA Sports) Vs Vinicuis Santana (Killer Bees)
Felipe Ze Pequeno Vs Thiago Maceio
Patrick Bergman Vs Alisson Murilo
Zimmerman Clades Vs Francielle Franco
Submission Grappling
Cleiton Vs Jose Conde
Amateur Boxing
Felipe Gajo Vs Fabio Jensen
Amateur Kickboxing
Tatiane Evangelista Vs Patricia Pitbul
Fabio Ben 10 Vs Natan Maia
Thai it bull Vs Lilian Silva
Wellington Candido Vs Eduardo Budnik
Lisa Araujo Vs Fernanda Teixeira.