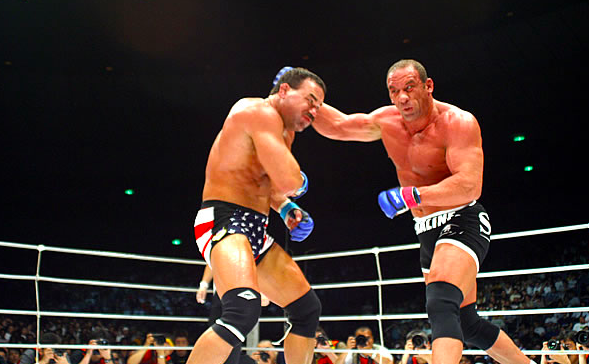 Are we going to get two Hall of Fame coaches for the next season of The Ultimate Fighter?  While news circulated last week that the next season of TUF will feature an open audition for Male Heavyweight fighters and Female Featherweight fighters to attend the open tryouts for the upcoming 28th season of the Ultimate Fighter, UFC legend Mark Coleman took to the UG with his idea.
Mark Coleman is a former USA Olympic Wrestler and was the UFC 10 and 11 tournament champions.  Coleman went on to become the first UFC Heavyweight Champion and won the Pride Fighting Championships Open Weight Grand Prix Championship in 2000. Coleman's relentless top pressure and ability to strike while holding an opponent down earned him the distinction of "The Godfather of Ground and Pound"–a fitting manicure for a fighter known as "The Hammer".
Coleman has suggested a rival coach in Don Frye another UFC legend who won the UFC 8 Ultimate Ultimate tournament and finished as a runner up to Mark Coleman at UFC 10.  Frye who fought for the UFC and PRIDE  before heading to Hero's and K1.  Frye was involved in legendary fights with Yoshihiro Takayama and Ken Shamrock while signed to PRIDE. Both Mark Coleman and Done Frye are in the UFC Hall Of Fame.