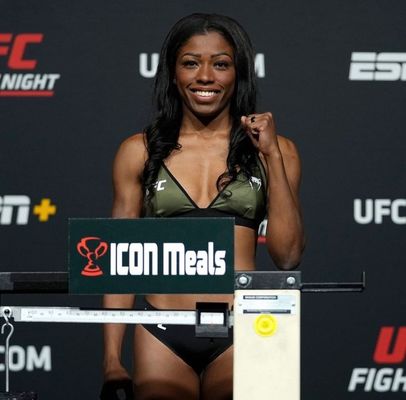 This past Saturday Glorinha de Paula lost to Maria Oliveira at UFC on ESPN 37. Glorinha de Paula lost the fight by split decision. Gloria Leite de Paula is a Brazilian MMA fighter who is currently competing in the straw weight division of the Ultimate Fighting Championship. She has a record of 6-4 and has fought many good girls before like Pauline Macias, Jihn Yu Frey, Cheyanne Vlismas, Diana Belbita, Maria Oliveira and many more girls too. Her opponent was Maria Oliveira who is also a Brazilian fighter with a record 12-5 and has also fought Tabatha Ricci, Enila Emily Costa Tabosa, Diulye Duarte, Marina Rodriguez and many more.

This fight went on pretty well for Maria Oliveira who easily took the win in the first round and the third round. In this fight there were a lot of takedowns from both fighters who were trying to work on their ground and pound. There were also multiple combinations and head kicks thrown from both fighters. This fight was really exciting since both girls were coming at each other however, Maria Oliveira did get lucky and too the victory home after this fight.
Another fight that was really good was the fight of Calvin Kattar against Josh Emmet who lost by split decision after 25 minutes of just coming at each other with heavy hands. The fight was won by Emmet because he had the most control of the fight throughout the whole 25 minutes. Joshua James Emmett is an American professional MMA Fighter.  Emmett is currently fighting in the featherweight division for the UFC. A professional competitor since 2011, Emmett has also competed for King of the Cage. As of March 21, 2022, he is #4 in the UFC featherweight rankings. He has a record of 18-2 and has fought really tough opponents before in his career like Dan Ige, Shane Burgos, Mirsad Bektic, Michael Johnson, John Tuck and many more.

And his opp Calvin Kattar, is an American professional mixed martial fighter. Who is also currently fighting in the Featherweight division in the UFC. He has been a pro fighter since 2007, Kattar formerly fought for EliteXC. As of April 12, 2022, he is #4 in the UFC featherweight rankings and has a record  of 23-6 with really tough fights winning most of them by KO. He has fought Giga Chikadze, Max Holloway, Dan Ige, Jeremy Stephens and many more too.