Cris Cyborg became the first recognized World Champion in the sport of Mixed Martial Arts in 2009 when she defeated Gina Carano in the main event of Strikeforce to capture the Featherweight Championship on CBS Sports.  13 years later Cris Cyborg is still recognized as one of the best in the sport as the Bellator MMA Featherweight Champion is currently ranked #4 in the ESPN Pound of Pound rankings having lost only 2 fight in 18 years of Mixed Martial Arts competition.
Known for her longevity in the sport, Cyborg and her team continue to invest in the research of body recovery and maintenance   constantly looking for the most innovative ways to help with her rehabilitation on performance. One of the first athletes to publicly acknowledge stem cell treatments at BioXcellerator in Medellin Colombia, Cyborg has a hard shell in home hyperbaric chamber, in addition to a Light Stem LED bed at her residence for use during training camps.
Looking for ways to improve overall functionality, Team Cyborg reached out to Desert Moon Hyperbarics in regards to an LED light system which could function and operate inside of a Hyperbaric Chamber without having to be manually installed to an electrical plugin while in use. Hearing the needs of Team Cyborg during her most recent training camp Janelle at Desert Moon Hyperbarics worked with her team to introduce Cris to the LS innovation Intelligent Light Therapy System.
LSpro: The LS Connection from LS Pro Systems on Vimeo.
Champ Cris Cyborg who already utilized LED lighting for health and recovery organically, did had never utilized the benefits of portable LED lightings, which made treatment inside the Hyperbaric Chamber, and traveling with the treatment option the week of her fight in Hawaii possible.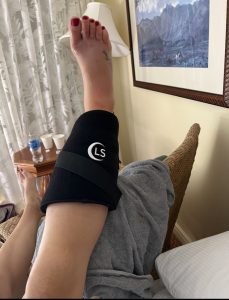 Champ Cris Cyborg hard this to say about the 'LS Pro Intelligent light therapy' system, "At my age it is important that I am able to focus on recovery, which allows me to put myself in a position to preform my best.  LS Pro helped me deal with many of the aches and pains associated with training camp naturally and organically while still allowing me to function at my optimal level. Any serious athlete or person dealing with chronic inflammation, arthritis, or muscle stiffness/soreness needs to invest in an LS Pro light system, because our health is wealth."  Overall Cyborg went on to say, "I would give the product a 10/10 it is easy to use, efficient to travel with and you actually see the results instantly!" You can even see Cyborg using them on her leg's following her most recent Bellator MMA victory
Find out more details about the LS Pro Intelligent Light Therapy Systems HERE. If you are not already following the newly opened Desert Moon Hyperbaric wellness facility in Las Vegas be sure to give them a follow on Instagram so that you can follow all the latest in recovery and rehab by one of the industries leaders!