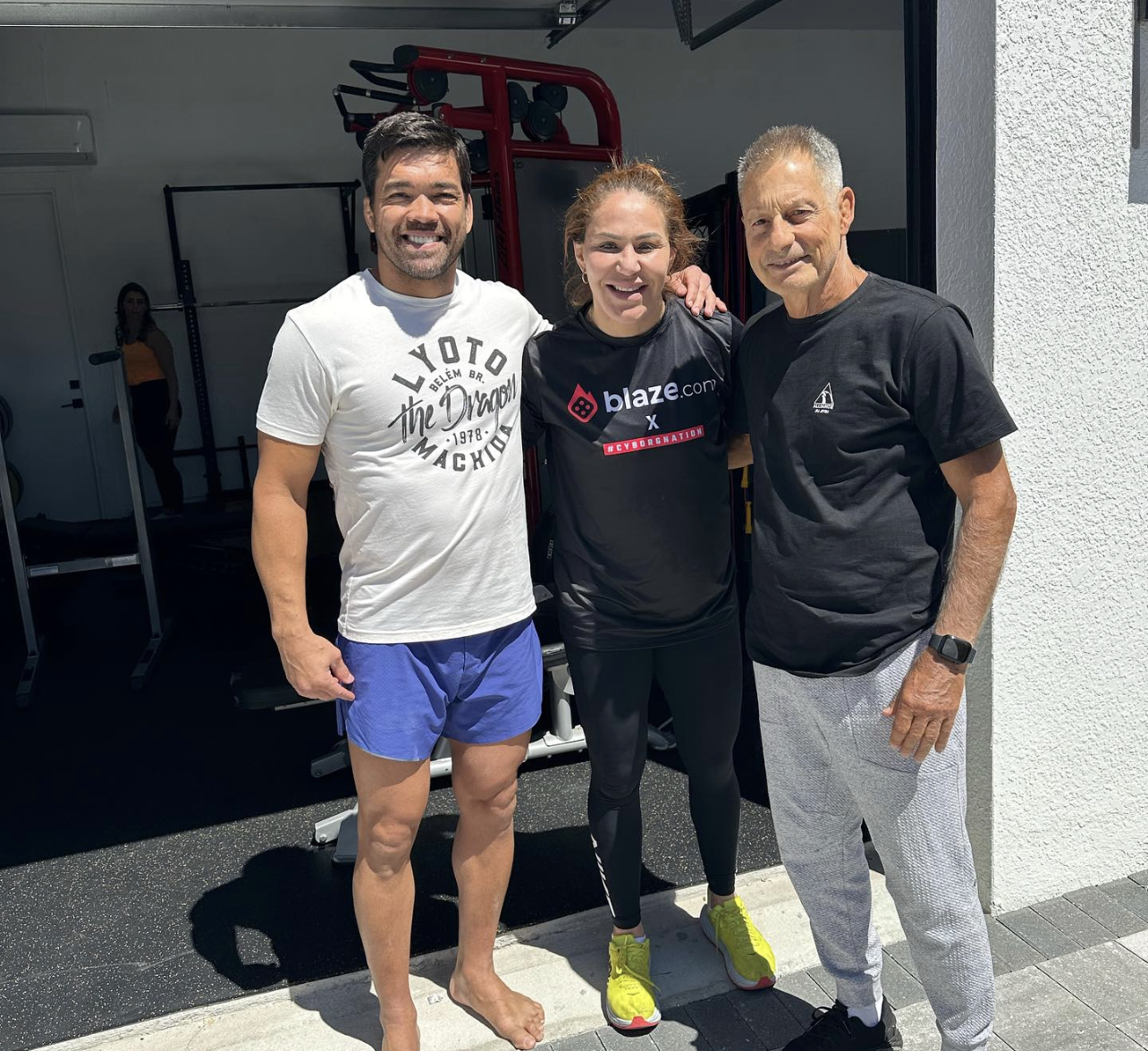 Cris Cyborg is the only Grand Slam Champion in the sport of MMA, something she has accomplished by winning the Bellator MMA, UFC, Invicta FC, and Strikeforce Featherweight Championships a feat that no other athlete male or female has been able to accomplish.  Even more amazingly, Cyborg has successfully defended every belt she has won.  While preparing for her next Mixed Martial Arts fight, Cris Cyborg started Spring Training Camp with strength and conditioning coach Rafael Alejarra at the Overcome academy and most recently was spotted in a photo with former UFC Champion Lyoto Machida.
Lyoto Machida is an absolute legend in the sport of MMA and was one of the first Karate practitioners to really prove his style at the Elite level shocked the world when he Ko'd Randy Couture with a front kick at UFC 129.  Other impressive names on Machida's resume include Tito Ortiz, Sokooudjou, Rashad Evans, Shogun, Ryan Bader, BJ Penn (Yes that BJ Penn), Dan Henderson, Gegard Mousasi, Chael Sonnen, and Vitor Belfort.  With his array of striking and distance management Lyoto Machida became known as one of the best counter strikers of all time with the names of former champions on his resume and the results of victory as proof.
Cyborg who has gone 2-0 in professional boxing while waiting on her next opportunity to defend the Bellator MMA Championship and she has continued to improve her overall striking and range management however she had this to say about the opportunity to train with the Brazilian Icon, "Wow! Lyoto really has developed an entire system of striking that is based on range management and both offensive and defensive attacks."  Cyborg went on to say, "I'm really honored he shared these details with me, and hope I get more opportunity to train with him and study his system."
Also featured in the photo is BJJ Pioneer Romero Cavalcanti who is the last black belt to be promoted by Rolls Gracie and one of the founders of the legendary Alliance Brazilian Jiu Jitsu team.  If Cyborg gets into the cage against Cat Zingano or Kayla Harrison next do you think she will be able to use the techniques she has learned?  Be sure to leave your comments below if you think the training is going to help Cyborg continue to evolve and become a better fighter.