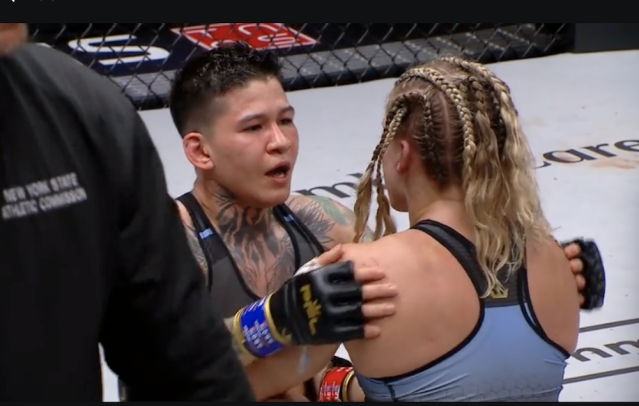 Kayla Harrison is undefeated no more. 15-1 after the PFL season Championship finals where she came in as an 8-1 favorite to face Larissa Pachecho an opponent she had beaten twice before by decision.  The two time Olympic Gold Medalist was already giving interviews saying this was her last tournament and following the fight her focus was going to be on creating SuperFights.
Winning the first round Harrison was able to get a takedown however Pacheco soon got her timing and distance winning the 2nd round, becoming the first round Kayla has lost during her professional career.  Harrison came back to win round 3, however she was on the losing end of scorecards for the championship rounds of 4-5
With the victory Larissa Pacheco scored the million dollar tournament prize money after all three judges gave her score cards of 48-47.  Harrison who was #8 on the ESPN Pound for Pound rankings only has two fights remaining on her PFL contract which makes the rematch seem unlikely without signing a new long term deal.
Fans on Cyborg Nation will remember before the fight Kayla Harrison was very outspoken about being the bets female fighter stating that she would finish Cris Cyborg in an eventual matchup, however the odds that this fight happens seem to have lessened with the performance and lack of PPV sales.