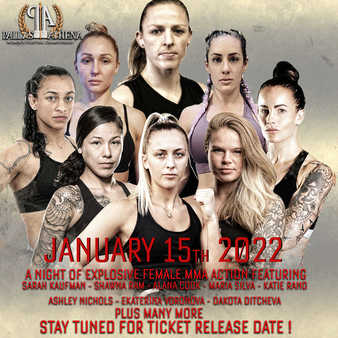 This next event is going to be very exciting with the partnership of PAWFC, who brought one of the fighters from our event Nacao Cyborg or Cyborg Nation to fight a well-known fighter in the sport of MMA Sarah Kaufman, on January 15th in Canada. The event is going to be happening at Grey Eagles Events Centre.
If you don't know the two fighters here is a little bit about them, Sarah Kaufman is a Canadian mixed martial artist. She used to be the former Invicta FC Bantamweight Champion. Sarah Kaufman was the first Strikeforce Women's Bantamweight Champion and was also the first and only Hardcore Championship Fighting Women's Bantamweight Champion. She has a record of 22-5 and has fought many great fighters before like Miesha Tate, Ronda Rousey, Alexis Davis, Leslie Smith, Valentina Shevchenko, Jessica Eye, and the list goes on.
 Her opponent is Claudia Leite who is the current champion in her division on NC Fights. Claudia Leite is a Brazilian fighter that is going to be fighting out of Sao Paulo, Brazil. She currently has a record of 8-2 has also fought girls that are really good in her career too like Alessandra Tainara, Janaina Calves Barbosa, Priscila de Souza, and lastly Tanya Lamounier Vieira. This fight should be really interesting due to both fighters being really tough and having experience and passion for the sport. We are also going to be having another girl from our event fight that day. Aline David is going to be fighting against  Kat Vorona, so make sure to stay tuned for all of the fights that are going to be on the card too. 
If you want to watch this woman's only event you can go to this link and buy your pay-per-view:  you can go to Cris Cyborg's and Cyborg Nation's IG to check out more info on the event too.  If you are a fighter and you want to fight at NCF make sure to go to ncfights.com and put your information and everything needed for you to be part of the event and if you want to sponsor the event you can also put your information on the website and be part of the Cyborg Nation family and help us grow even more to give more athletes the opportunity that they all deserve.