When Cris last visited the kids of Hospital Erasto Gaerner in her hometown of Curitiba Brasil, she made a promise to the kids that when she won the UFC belt she would return…little did they know she would leave the belt when she left! This past week during her Brazil Victory Tour Cris Cyborg made good on her promise and more! Bringing many of the stars of Curitiba and gaining support from Chute Boxe legends like Wanderlia Silva and Shogun Rua, Cris Cyborg visited the hospital along with Antonio Nogueira, and Chute Boxe founder Rudimar Fedrigo.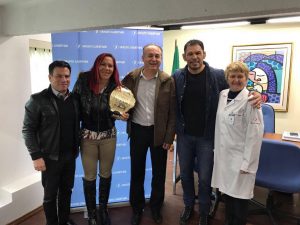 Surprising everyone in attendance, Cris Cyborg and the UFC presented the hospital which teats children cancer patients with a UFC BELT that will stay on display inside the children's center forever!
When asked about the event Cris said this, "These Children are so inspiring. They are the real warriors. they are so full of life and live every moment with passion. It is an honor to get a chance to connect with them and let them know just how special they are."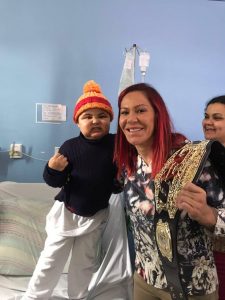 Cris who is active in community service helped bring awareness to the children's facility and their attempt to raise financing for expansion. Fans of Cris Cyborg might remember the winner of UFC 214 fan challenge was a young girl named Ashlynn who has been struggling with her own form of cancer, and her mother reached out in their video citing the needs for more awareness to be brought to the situation.
Cyborg Nation we encourage all of you to stay involved in your local community! outreach is a way to give back that often ends up being more rewarding that you could have ever imagined!