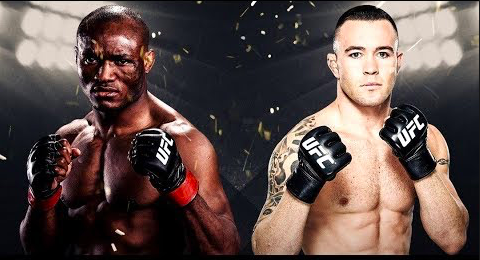 Kamaru Usman beat Demian Maia after 5 rounds to win a decision at UFC Chile, and then immediately after the fight said he wasn't going to call anyone out–however it appears the fighter is positioning himself for a fight with Tyron Woodley or local Florida fighter Colby Covington after his impressive win over Demian Maia.
Speaking to TMZ, Usman had this to say about Colby Covington, "He's ducked me three times since they offered him that fight. I want the fight because honestly, and I've said this to numerous people, he's the one guy in the division that I can't be around.  It doesn't matter what other fighter, if I hate you or whatever, I can be around you. If I see this beady eyed snake head looking dude in any room, my heart rate goes up. I just want to punch a hole through his head.
Covington who has gone the Conor McGregor route and started trash talking all of his opponents, infamously ran into Usman backstage at one of the press conferences for the UFC, and despite the taunting refused to engage Usman without cameras present. Colby will be fighting Rafael Dos Anjos in Chicago for an Interim title at 170lbs, if he is able to get the victory the fight with Usman would make logical sense if Tyron Woodley isn't read.