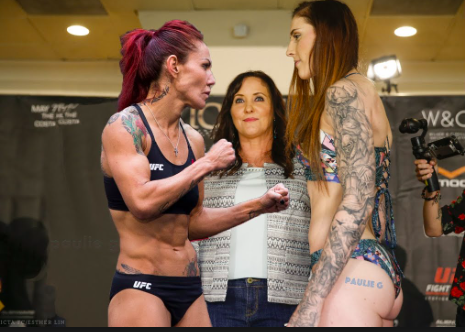 Follow Cris Cyborg's impressive win on 20 days notice at UFC 222, Australian MMA fighter Megan Anderson once again took to social media to call out another opportunity to fight Cris Cyborg.
Congrats Cris on your win tonight 👏🏻👏🏻👏🏻@ufc Can we do this now??? Featherweight vs. Featherweight?? #ufc222

— Megan Anderson (@MeganA_mma) March 4, 2018
Anderson was Cyborg's original opponent at UFC 214 in Anaheim however when she was forced to withdraw due to personal reasons Invicta FC Champion Tonya Evinger took her place.  Following her victory over Holly Holm Cyborg initially asked for a fight against Megan Anderson at UFC Perth at UFC221, however Anderson declined the fight opportunity, giving Cyborg the opportunity to step in and save UFC 222 on 3 weeks notice when Max Holloway was forced out of the fight due to injury.
.@joerogan, @dc_mma, @Jon_Anik you want an actual featherweight who is bigger than Cris and has power…. #ufc222 pic.twitter.com/bHj1uGd9hj

— Megan Anderson (@MeganA_mma) March 4, 2018
Anderson who hasn't fought in over a year has been vocal online in a pursuit of a fight against Cris Cyborg.  If Amanda Nunes loses at UFC 224 or is unable to fight Cyborg July 7th at International Fight Week UFC 226, one has to wonder if Megan Anderson finally has her situations in order to agree to terms and give the fans the fight they have been asking for.  For Megan, it has been over a year since she has fought in the cage, and a bought with Cris Cyborg could be just the fight she needs to remind fans that she is one of Australia's top prospects.

If you are looking to start off the summer right, get started with my functional meal and diet plans.  Working together with the creators of the Better Human App we have developed an easy and convenient shopping list and meal plan that will help you reach your micro and macro intake needs.  To get your hands on the plans, click here!