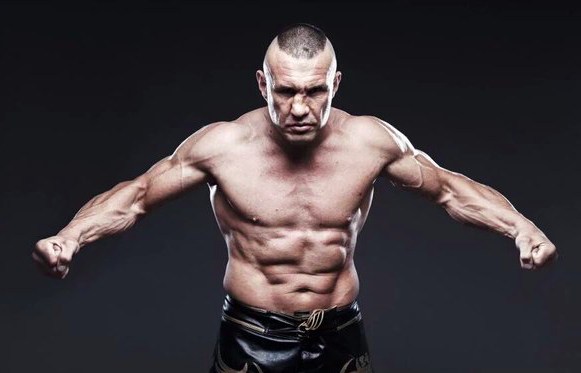 For immediate release on April 27, 2018 – ROAD Fighting Championship announces the final line up for ROAD FC 047 which will take place at the 20,000-seat Cadillac Arena in Beijing, China on May 12, 2018. A new match is set for the opening round of the Openweight Grand Prix, and two remaining matches on Part 1 have changed.
Oli Thompson vs Deng Chaolong
Originally, French kickboxing legend Jerome Le Banner was slated to face China's behemoth Sanda champion Wu Lahan. However, both fighters have been struck with injuries that will push them out of the time needed to recover safely for the Grand Prix.
Oli Thompson (17-10, First Generation MMA) of the United Kingdom discovered his super strength early and began competing in Strongman competitions all over the world. He won gold in Britain's Strongest Man in 2006 and was top 20 in the world by 2008. Thompson transitioned to MMA in 2009 and found equally rapid success by becoming the UCMMA Champion within 2 years. This led to a shot in the UFC, then BAMMA, KSW and Bellator, culminating in winning the IGF 2015 Grand Prix by defeating Minowa Man, Chris Barnett, and Fernando Rodriguez Jr.
Deng Chaolong (10-4, Dailan North MMA Club) of China is taking his biggest fight to date against Thompson. The 23-year old is 188cm and hails from a very tough area and team that is starting to produce well-rounded MMA fighters outside of the Sanda circle. Deng counts 6 TKOs and 3 submissions in his win column, and he's proven that his BJJ is going to be a part of his game plan.
ROAD FC is excited to bring world-renowned Thompson into the Grand Prix, and eager to present another of China's up and coming heavyweight talents. We wish Jerome Le Banner and Wu Lahan speedy recoveries, and we will continue discussions to bring these powerful fighters back into the ROAD FC cage.
2018 Openweight Grand Prix
American Chris Barnett will bring his exciting Taekwondo style against the massive judoka kickboxer from Romania, Sandu Lungu. China's standout young superstar Aorigele will rematch consummate underdog Kim Jae-Hun of Korea. MMA juggernaut Gilbert Yvel of the Netherlands will make his come back by facing ROAD FC Openweight Champion Mighty Mo. In the reserve match, exciting striker Kong Handong of China will face the legendary Japanese PRIDE "Iron Head" Fujita Kazuyuki.
Also on Part 2, the world's most dominant female BJJ competitor Gabi Garcia continues her sensational career in MMA when she faces Russia's multiple times World Hand-to-Hand Combat Champion Veronika Futina.
ROAD FC 047 Part 1
On Part 1, two matches have been affected and must change. Baoyincang was set to face Rafael Fiziev, but the latter has experienced visa delays. Sasaki Shinji was expected to rematch Albert Cheng, but an injury to Cheng will see him unable to be ready so soon. Therefore, Sanda Champ Baoyincang will now face Shooto Champ Shinji Sasaki, in a definitive striker versus grappler war.
Intelligent striker and ROAD FC mainstay Ki Won-Bin faces multiple Muay Thai champion "Saksurin" Khaorat in a highly unpredictable match. Chinese MMA OG Baoshe Riguleng's return to MMA is highly anticipated, but he'll have to get past gatekeeper Bruno Miranda first, and that's a huge bang of a welcome back. Ramona Pascual versus Marina Kumagai will showcase big kicks and powerful clinch work in the women's bantamweight division.
New Wave MMA ROAD FC is the stage where legends shine, rookies thrill, and epic battles are waged that determine the future of MMA. From the pageantry of the grand entrance to the final crunch of the KO, ROAD FC showcases the very best of Mixed Martial Arts sports and entertainment. As we say in Korea, "Fighting!"
Xiaomi ROAD Fighting Championship 047
May 12, 2018
Cadillac Arena
Beijing, China
#5 2018 Openweight Grand Prix Opening Round Match
Aorigele vs Kim Jae-Hun
#4 2018 Openweight Grand Prix Opening Round Match
Mighty Mo vs Gilbert Yvel
#3 Women's Openweight Match
Gabi Garcia vs Veronika Futina
#2 2018 Openweight Grand Prix Opening Round Match
Oli Thompson vs Deng Chaolong
#1 2018 Openweight Grand Prix Opening Round Match
Chris Barnett vs Alexandru Lungu