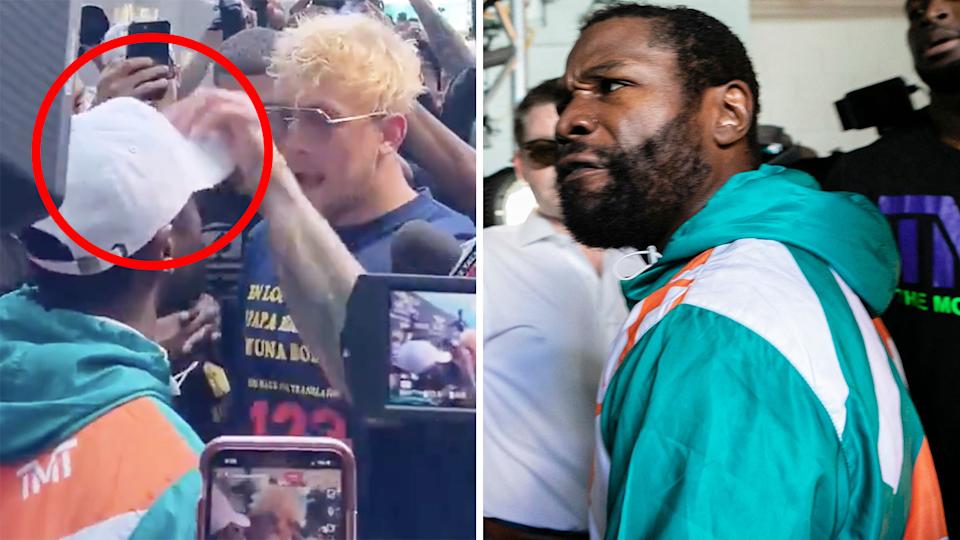 Jake Paul might be a bit of a troll online and he certainly got under the skin of rival Floyd Mayweather Jr when the two ran into each other ahead of Logan Paul's infamous exhibition match against Floyd Mayweather a few years ago where Jake Paul confronted Floyd Mayweather before snatching the Pound for Pound boxing greats hat and eating a few punches by the champion boxer in exchange for the comedy.
While Jake Paul has never fought Money Floyd, he has started to build his own brand in the sport of Boxing after starting his career a Red hot 6-0 he suffered his first setback as a split decision loss to Tommy Fury the brother of current Heavyweight Champion Tyson Fury earlier last month in Saudi Arabia.  Now 7-1 as a pro, Jake Paul has said he is more motivated than ever to exceed in the sport and has already activated the rematch clause to face Tommy Fury a second time.
After attending the Miami Heat NBA Basketball game, Jake Paul was approached by Floyd Mayweather and a group of Goons as he was attempting to leave the stadium.  While Floyd did not openly threaten Jake Paul, members of his team surrounded him while filming the threatening incident when one of them gave the illusion of violence that caused Jake Paul to sprint to safety.  Will we eventually see these two in the boxing ring? Was Jake Paul smart to run from the situation?