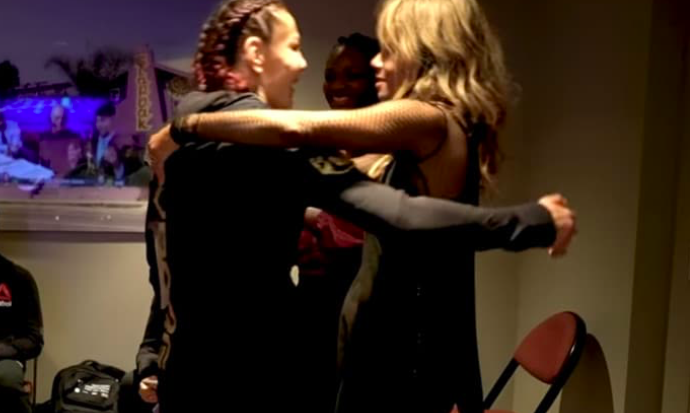 Very rarely do we get an opportunity to see how celebrities interact in their everyday life, however in the last episode of Cyborg Nation, we got an upclose chance to witness the shock Halle Berry had following the firestorm of punches at UFC 232 which left Amanda Nunes as the winner of the UFC's first ever Superfight between two female fighters.
Halle who is currently researching a role for her new movie BRUISED, which will be centered around a female MMA fighter and produced by Halle herself, has had an opportunity to get to know Cyborg on a personal friendship level.  With camera's rolling in the back as Cyborg returned to the locker room following her fight, we get to see Halle console the world champ alongside Olympic boxer Claressa Shields.
Halle went on to say, "She's a champion. You'll see she'll be back. All champions have to face high's and low's, I've faced it in. my own career, we all have, but she'll be back, she's a champion."  Cyborg went on to tell Claressa she expects a rematch with Nunes.  Cyborg who was caught in the first minute of the fight, suffered her first loss in 13 years after having won more than 20 consecutive fights as a professional in MMA, establishing a streak that is the longest unbeaten streak in the history of the sport for a female fighter.
Pick up your official CYBORGNATION T-shirt in our ONLINE SHOP and let everyone know that you are down with Team Cyborg heading into the 2019 COMEBACKSZN.  Shipping options make it possible to get your shirt anywhere in the world.