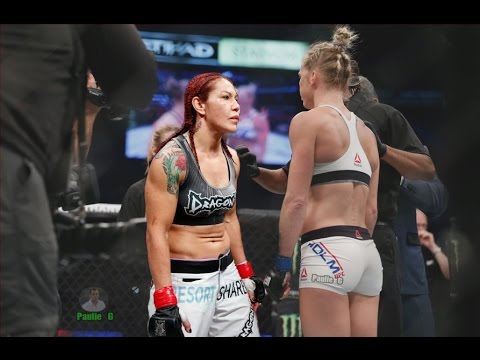 Fans were disappointed yesterday when long time manager of Holly Holm Lenny Fresquez told Ariel Hawani of MMA Fighting that the bout against Cris Cyborg Dec. 30th for the Featherweight UFC world Title at 145lbs was 'Dead'.  Fresquez went on to say that they were unable to reach financial terms for the title bout to take place in December, but said that they were open to ongoing discussions in the future if the circumstances were right .
Holm who has gone 1-3 in her last 4 fights has struggled since the success of her KO victory over Ronda Rousey.  While Pay Per View sales of her attempted first title defense against  Meisha Tate broke the 1 million buys barrier for PPV sales, it had mega star Conor Mcgregor on the card.  Following on the exposure from beating Ronda and fighting alongside Conor Mcgregor at UFC 196  almost 4.6 million viewers watched Holm lose to Valentina Shevchenko on FOX TV, giving her two highly viewed back to back losses.
Despite consecutive losses Holm was brought in as the main event at UFC 208 for the first UFC to be held in Brooklyn.  Headlining an event that already featured proven fan favorites like Anderson Silva, Jacare Souza, and Derek Brunson the expectations were high for the first ever Featherweight UFC World Title fight.
Holm sold an underwealming estimated 200,000PPV buys in her loss to Germaine De Randamie.  After 3 consecutive losses, Holm recently picked up a win over Bethe Correia in Singapore with a bout that was broadcasted on the UFC's digial Fight Pass channel.  Numbers for Fight Pass are not publicly released, however early indicators show that the trend of decreased viewership ratings of Holly Holm continued despite being on a new digital platform.
Cris Cyborg's long time manager George Prajin told MMA JUNKIE "The big fights are the ones you want as a fighter, those lead to the most money. I can't speak for her camp. All I can say is that Cris has agreed to the fight."
Just last month Dana White had indicated this bout was in the works, however Prajin went on to say,"I would assume Holly doesn't want to fight Cris.  Holly is pricing herself out of the fight because she doesn't want to fight her."  While both Cyborg and Holm have exchange social media replies promoting this fight, it now appears that the UFC 219 fight is off the table.
Prajin also told MMA Junkie that Cyborg remains on good terms with the UFC, and that the search for an opponent for the UFC 219 date remains as Cyborg is hopeful that the Dec. 30th date is when she makes her octagon return.
While both sides try to reach a deal to make this fight happen, one thing remains clear, this fight is the biggest fight that can be made in WMMA.  Do you think we will see Cyborg defend her title against Holly Holm eventually? Now that Holly Holm has removed her name as an opponent for UFC 219 who should Cris fight?
Would you like a personal message from Cris Cyborg? Now is your chance! Order an individualized video for yourself or a friend this holiday season from Cyborg.  Congratulate someone on a job well done, wish them good luck on an upcoming performance, or just send a message to a friend or loved one letting them know how special they are to you.  This is one Birthday or Christmas gift any MMA, UFC, fan will remember for the rest of their life! Order yours here!