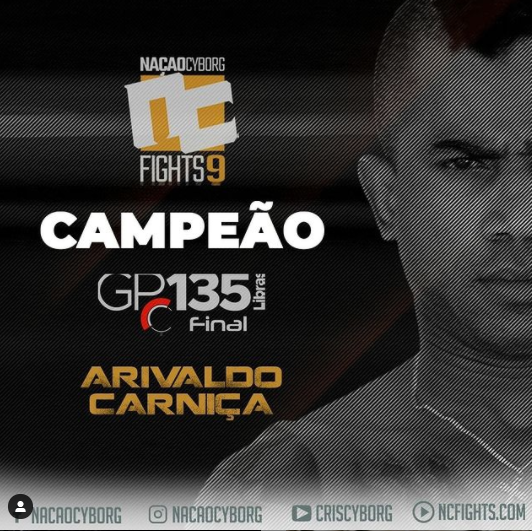 This weekend on NCF 9 Cris Cyborg's event Arivaldo "Carnica" Lima da Silva won his contract with the event Bellator on July 29th. Cris Cyborg is a world MMA champion, today fighting in Bellator. Cris Cyborg has 4 different belts including  a Bellator, UFC, Invicta and Strikeforce belt.  Cyborg was born in Curitba, Brazil and now lives in Huntington Beach, California. Cris started to get involved in sports when she was around 15, she started with Handball and one day a MMA coach from a well known gym in Brazil named Chute Boxe saw her training  and asked her to participate in one of the practices, she did and ended up falling in love with it. Cris Cyborg has a passion for animals and is the owner of Two dogs, a Bengal cat, a mini pig,  a Maine Coon and multiple Fish & Birds at Cyborg's zoo. Cyborg has an event named NC Fights in Brazil with her brother Rafael Venancio Justino also known as Rafael Jackal who is 3 years older than her and takes care of most part of the event in Brazil. On the 29th, the vent had its Grand Prix Final and the winner of it was Arivaldo "Carnica" Lima da Silva who was born in Salvador, Bahia in Brazil. He is 39 years old and he won the contract by beating Wagner Lima. 
Nacao Cyborg's weigh ins took place on the 28th of July  at 15 pm here in the United States. In this event we had various and  multiple different fighters from different regions and backgrounds from Brazil and other countries. If you are a fighter and you want to fight at NCF make sure to go to ncfights.com and put your information and everything needed for you to be part of the event and if you want to sponsor the event you can also put your information at the website and be part of the Cyborg Nation family !
Looking to help the growth of Combat Sports and the Athletes in Brazil seeking opportunity, MMA Grand Slam Champion Cris Cyborg Partnered with her brother; Chute Boxe black belt Rafael Justino, to launch the Nacão Cyborg Fight promotion.