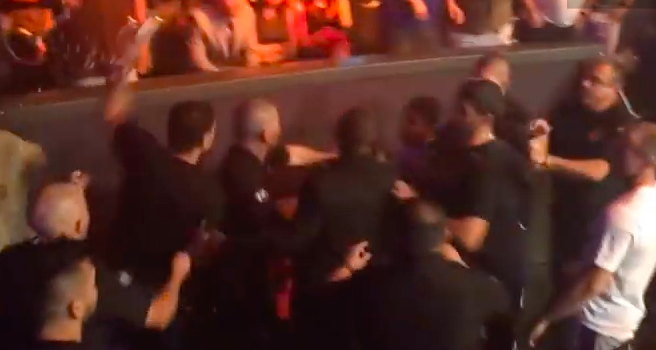 There have been street fight, gym war videos that the world of MMA have waited to surface before, fans of the sport will remember one such video of Rickson Gracie when supposed dojo stormers from Japan showed up to fight him for his Gym's honor.
It appears as if the Russian connection of Team Khabib now is in possession of one of those types of videos.  In a recent interview that was done by Russian Media, Khabib's dad is giving an interview about ho he has a video of one of the Diaz brothers getting Ko'd by Islam Mamedov in a fair one-on-one fight.
While details of the incident are not fully clear, the father of Khabib said that he doesn't wish to speak on the incident or release any video footage of it while the fighters are active in their careers, citing the very real possibilities that it could effect their working visa's.  Check out full excerpt below.
From Russian media as translated by MMAImports
"Habib told me how it was. Two companies met somewhere, Diaz and his friends began to be pumped in. On both sides were professional fighters, they sorted it out. The arena was bad place for that beacause of women and children. Diaz approached Habib, in a specific mood … drunk. Approached closely: "Now what?" Habib did not give up: "Now – we go ahead" From our side there was Timur Valiev, Esed, Ramsay, boxer-Ukrainian, Hassan Ergashev, Mammadov Islam, Abubakar Nurmagomedov, Habib … And there you go".
"The Diaz says:" We are waiting for you upstairs. "My people answer is:" We accept the challenge, we will be there. Rise up "."
"In general, there were five venues of brawl, Islam Mamedov kicked Diaz out with one blow, no one interfered with them, then the police appeared. I have an exclusive record of this, no one else has it. Until Habib finishes career, we have no right to publish it. And in general, talk about any street fight should be less. This can affect the fighter's visa."
The incident at the arena that is said to have started the second fight has been published and is believed to be below.