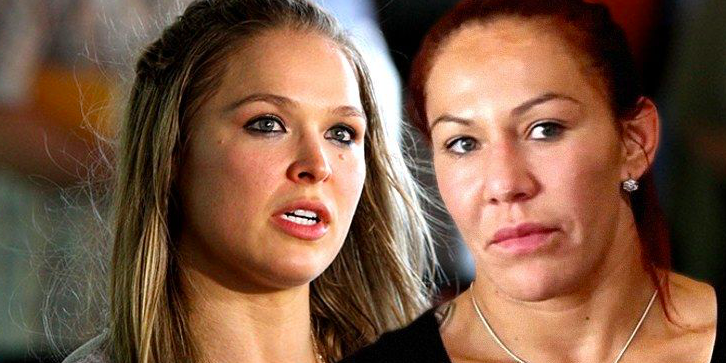 Cinco De Mayo,  the 5th of May, is always a big holiday in California.  The date which celebrates Mexican Independence Day his heavily celebrated by the hispanic communities of Los Angeles, and as such the weekend has become historic for a great weekend of boxing, usually featuring latin fighters.
While GGG Vs Canelo 2 was suppose to go down in Las Vegas this weekend, unfortunately Canelo was suspended by the NSAC for Clenbuterol in his system.  As such the weekend was moved to the StubHub Center in Carson California and even though the main event is now Gennady Golovkin V. Vanes Martirosyan the show is presented by Tecate and called "Mexican Style 2 Cinco De Mayo"
Ronda Rousey who recently has transitioned into fighter management, is reportedly going to be attending the event in support of Vanes Martirosyan who competes out of the Glendale Fighting Club and trains under Ronda Rousey's head coach Edmond Tarverdyan. Rousey who is not actively competing in MMA has successfully transitioned into WWE after making her debut in spectacular fashion on Entertainment Wrestling's biggest platform, Wrestle Mania.
Proud of our #OneFightManagement fighter @vanesboxing stepping up to fight our friend @gggboxing on 3 weeks notice. Looking forward to seeing your #BigDramaShow for the fans. Good Skill to you both, may the best man win 🙏🏼 pic.twitter.com/lJE0teGDDs

— Ronda Rousey (@RondaRousey) April 18, 2018
Cris Cyborg is said to be attending the night of fights as well.  Cyborg who is currently ranked #1 pound for pound in the sport of MMA according to ESPN has talked about transitioning into the sport of Boxing.  The Co Main event of the night will be a historic event as HBO, for the first time in over 40 years will broadcast a women's Boxing fight. Featuring the only female to ever unify the WBC, WBO, WBA, IBF belts Cecilia Braekhus against Kali Reis. Cyborg who was granted a professional boxing license by the state of California last year has been interested in setting up a female version of #MayMac where the #1 P4P female fighter in MMA steps into the boxing ring to take on the #1 P4P fighter in Boxing.
Fans wanting to watch the fights live will be able to tune into HBO at 8PM PST to see history made as Cecilia Braekhus and Kali Reis become the first female fighters to ever compete on the HBO channel. The full fight card including the main event of Glolovkin Vs Vanes will be shown on HBO. If you are on #CYBORGNATION and coming to the fights at the STUBHUB, keep a look out for Team Cyborg.
When asked about attending the same fight as Ronda, Cyborg had this to say, "I have actually never had the opportunity to meet Ronda.  I respect her as an athlete and as a professional because she did amazing things in the UFC and continues to open doors for women with her participation in the WWE.  Now that she is no longer competing in MMA it might be an easier introduction to make, I think if she got to know me, she would see that many of the things she said about me in the past are not true, but I don't hold any anger towards her and would welcome the chance to meet her."
@TomLoeffler1 we will have @RondaRousey and @criscyborg come out to support the fight.

— LatinboxSports (@LatinboxSports) April 30, 2018