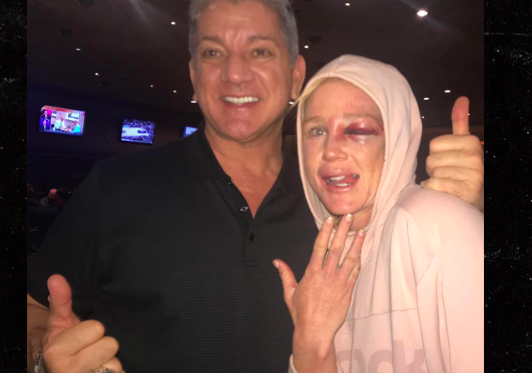 While Cris Cyborg has been undefeated for over 12 years she has become the first female in MMA to win 3 major world championships with 3 major promotions all in the same weight class.  While Cyborg was the Strikeforce FC, and Invicta FC champion she became the first MMA fighter in the world to be a World Champion in one class and drop to a lower weight division to compete, having done two super fights at 140lbs in the UFC.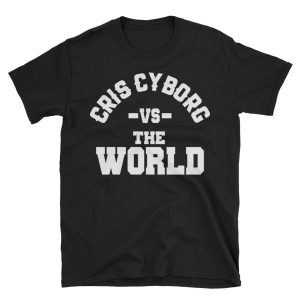 While recovering from difficult weight cuts, the UFC went ahead and introduced the UFC 145lbs championship, intentionally promoting the bout at a time when Cyborg wasn't medically cleared to compete establishing a world champion in Germaine De Randamie with a girl who had not fought in the Featherweight division in over 5 years after she defeated Holly Holm at UFC 209 in Brooklyn.
When the UFC was unable to matchup GDR Vs. Cris Cyborg, De Randamie eventually vacated the world title.  With no world Champion in the UFC, Cyborg vacated her world title with Invicta, having already competed twice in the UFC at 140lbs making Megan Anderson the undisputed world champion at 145lbs after her Interim Title was made undisputed following her victory over Chaarmaine Tweet.
The UFC looked to add legitimacy to the division by matching Cyborg Vs. Anderson at UFC 214 however visa issues eventually lead to the removal of Anderson from the card.  Tonya Evinger was the eventual replacement before a bout against Holly Holm was finalized.  Defeating both Tony Evinger and Holly Holm, Cyborg was next in line for Megan Anderson the #1 contender once she had finalized her visa matters.  When UFC 222 needed a last minute replacement, Cyborg stepped up to fight Yana Kunitskaya defeating her in the first round.
Cyborg has since been campaigning for a fight at UFC 226, which her team says she was promised following her last minute arrival for UFC 222.  Nunes however is currently scheduled for UFC 223 and is saying she will not be available for the July 7th date, and the only other suitable opponent Megan Anderson has just been booked against Holly Holm, which in all likely hood means Cyborg will not be a part of UFC 226.
Speaking with Amy Kaplan of Fansided.com Cyborg went on to say, "I'm not surprised, I said this was going to happen months ago.  It's how the UFC works. They are going to take the number 1 contender and have them fight someone I already beat."
Cyborg went on to say, "The UFC knows Holly needs a couple of wins before we can have a rematch, right now her record is terrible. She is 1-4 and in the negative over her past 5 fights."  Beside a win in Singapore that was featured on Fight Pass, Holly Holm has struggled since her victory over Ronda Rousey two years ago.
When asked if a win over Anderson would get Holm a rematch, Cyborg went on to say, "I think Holly Holm will have to win a rematch with GDR or put together a couple more wins before that rematch is something I am interested in.  I have have already agreed to fight Amanda Nunes with my management so now it is up to them to establish when that bout can take place.
Cyborg gave one final quote saying "Megan Anderson has been training hard and I expect a bout between her and Holly to be a great fight, I'm excited to see the UFC start doing fights in the Featherweight division."