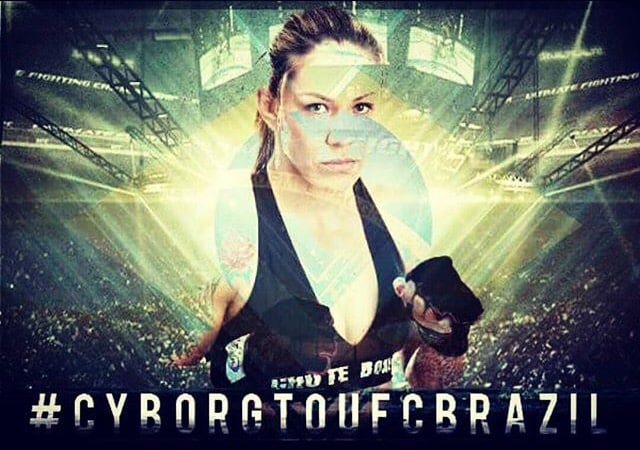 It has been almost 10 years since I last fought in my home country of Brazil.  I am very lucky that over the last decade my Brazilian Fans have continued to support me and my career as I chased my dreams as a World Champion, while living and competing in America.
This May the UFC will be promoting an event in my hometown of Curitiba Brazil, a city very rich in fight history.  It would be an honor to return back to the city I was born in, and to step inside of the Octagon with an opportunity to prove myself as one of the best female fighters in the sport.
I know that the UFC does not have my division, which is why I am asking my fans to help make this fight!
As many of you know I am already a ZUFFA Contracted Athlete despite fighting for Invicta.
Let the UFC know you would like to see me fight at UFC Curitiba Brazil this May by letting your voice be heard on Social Media!
Show your support by posting a picture using the Hashtags #CyborgNoUFCBrazil (Portuguese) #Cyborg2UFCBrazil (English) on your Instagram, Twitter, or Facebook . Once you have done this you will be automatically entered into an opportunity of a lifetime.
If the UFC gives me an opportunity to compete on the Curitiba Brazil event:
I will pick one lucky winner to give 2 FREE Tickets to the UFC Event, and an invitation to come to my Team dinner after the pre fight weight check.
This will be a once in a lifetime experience for any fan. Because you have to travel or already be in Brazil only pics with #CyborgNoUfcBrasil will be eligible to win, but please use both the English and Portugese Hashtags.
I am truly blessed to have the world's best fans.  They have stuck by my side during the highest points of my career and supported me during my lowest.  I have prayed to God for the opportunity, and if it is his blessing, my fans ALL OVER THE WORLD will finally get to see me compete inside the Octagon!
Let Dana White and the  rest of the UFC officially know that you are a part of #TEAMCYBORG 
Thank you for your support.  
To see how these #HASHTAGS are doing socially visit my #hashtag board at => www.hashatit.com/criscyborg